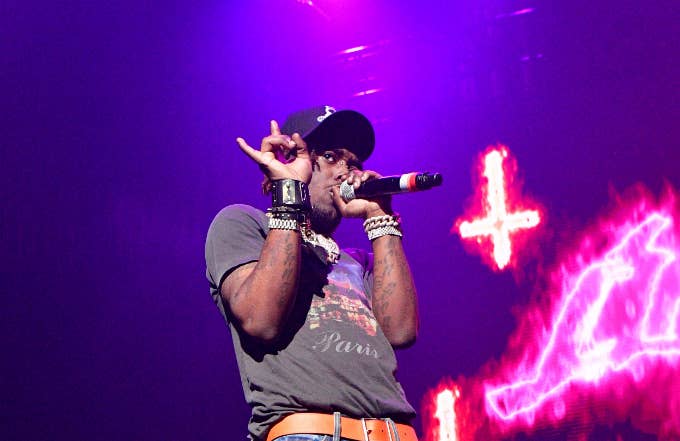 Welcome to the Uziverse, Jeff Koons.
Koons, who's currently doing a press run in promotion of his Easyfun-Etherealre-exhibition, detailed his affinity for the sounds of Lil Uzi Vert during a reliably Koonsian chat with the Guardian Friday. Speaking on how the best work helps one "experience transcendence," Koons elaborated on what's given him that feeling: Duchamp, Warhol, Ruscha, Led Zeppelin, Michael Jackson, and Uzi.
"[Lil] Uzi is very poetic, and he's able to speak about a kind of microcosm that actually represents one community that can be looked at as a whole," Koons, who regularly lifts weights to Uzi cuts, said. "I think it's very pop; it's very connecting. I just think it's brilliant." He's right.
Koons isn't the first person to champion Uzi's impact on today's pop landscape. In January, ASAP Ferg compared Uzi's vibes to those of SoCal pop-punk forefathers Blink-182. "When I think about pop music, I think about hip-hop music," he said. "I feel like Young Thug is the new pop star. Lil Uzi [Vert] is definitely the new pop star. Like, he's definitely the new Blink-182. And I don't think it's weird! It's just the progression of hip-hop. Hip-hop just became the monster that it was always supposed to be." 
Tom DeLonge himself touched on this idea in a Pigeons & Planes chat last year, more specifically drawing comparisons between straight-up punk music and hip-hop. "It was always more of an emotional vehicle than a musical one," he said. "So it makes sense that you would someday see them aligned with each other."
For the increasingly inevitable Lil Uzi Vert x Marilyn Manson tour, the dudes should hit up Koons about infusing their performances with an inverted cross-emblazoned update on Balloon Dog.