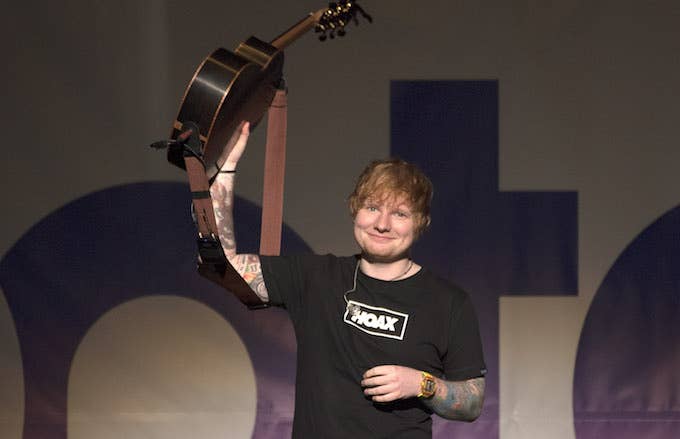 Ed Sheeran is linking with Tim McGraw and Faith Hill for a new collab, this time in the form of a lawsuit.
Songwriters Beau Golden and Sean Carey have accused all three of "blatantly copying" their 2014 track "When I Found You," according to the Hollywood Reporter. Specifically, Carey and Golden allege that the title track to McGraw and Hill's 2017 album The Rest of Our Life is so similar to their 2014 track that they should be awarded injunctive relief and "at least" $5 million.​ 
"The copying is, in many instances, verbatim, note-for-note copying of original elements of the Song, and is obvious to the ordinary observer," the complaint, obtained by THR Wednesday, claims. Golden and Carey, repped by attorney Richard Busch, allege that Sony Music knew about the songs' purported similarities. The suit also names co-writers Amy Wadge and Johnny McDaid, Sony/ATV, Universal Polygram, and WB Music. 
"When I Found You" was released as a Jasmine Rae single back in 2015, having since amassed more than 70,000 views on YouTube. Back in 2016, Sheeran was hit with a $20 million lawsuit (later settled out of court) for his alleged copying of Matt Cardle's single "Amazing." Sheeran has also faced similar claims from the songwriters behind TLC's "No Scrubs" and Marvin Gaye's "Let's Get It On."
"When questioned by Plaintiffs as to his silence about the similarities between 'When I Found You' and the Infringing Song/Infringing Sound Recording, [Sony marketing manager Tim Holland] stated he did not want to lose his job with Sony Music," the new complaint over "When I Found You" alleges.​ Read the complaint in full here.