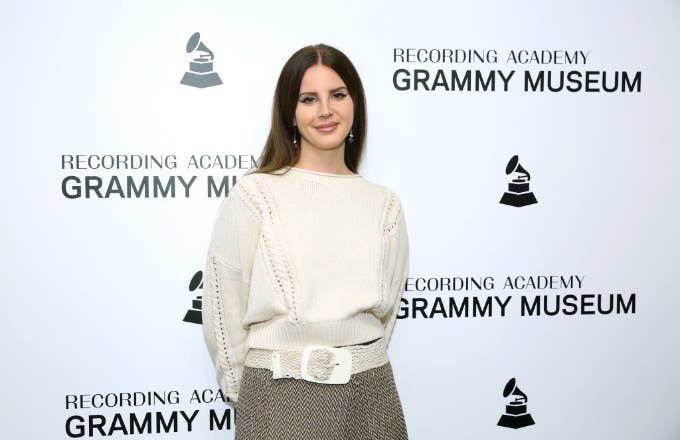 A new album of the spoken word variety in partial benefit of a wonderful cause is on the way from Album of the Year nominee Lana Del Rey.
The Norman Fucking Rockwell artist made the announcement overnight on Thursday, detailing her plans for the new release in a video update to fans.
"My book Violet Bent Backwards Over the Grass is taking a lot longer to hand-bind than I thought," she said. "I just wanted to let you know that I'm gonna put up a spoken word album, if you can call it that, on the fourth of Jan. And in thinking about doing that, I had had a thought for a while about how I knew I wanted the album to be around a dollar because I just loved the idea that thoughts are meant to be shared and that they are priceless in some way."
The spoken word album, she added, will see the donation of half of its proceeds to a variety of Native American–supporting organizations around the country. Those organizations, yet to be announced, will range from those "preserving their rights" to those helping "keep their land intact."
This move was inspired by Lana's recent efforts toward both reconnecting with her own family lineage and to the lineage of the country at large, a journey that's "informed the next album that I've been working on."
The spoken world album is further described as being "not particularly polished" and consisting of "kind of freestyle poetry, just out loud."
Look for it on Jan. 4. In the meantime, here's a new video from NFR: