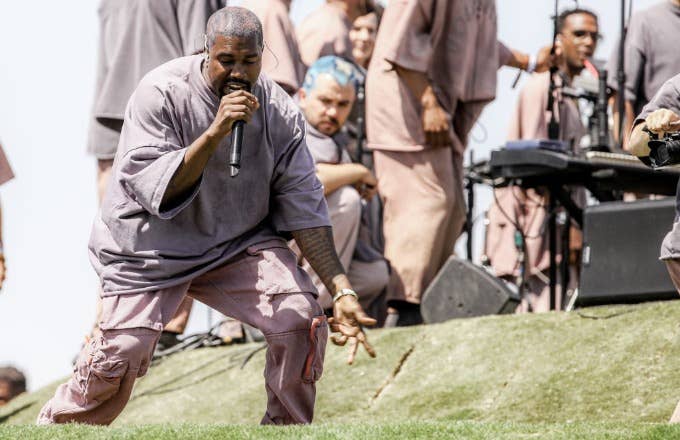 Though inserting Christian lyrics into classic Nirvana cuts like "Smells Like Teen Spirit" and "Come As You Are" quite unequivocally makes zero sense, that's a thing that happened at a recent edition of Kanye West's ongoing Sunday Service series.
Indeed, as excerpted in the YouTube clip below, Ye's Calabasas collective of musicians recently retooled the Kurt Cobain-fronted radio mainstays by way of altering some lyrics to fit into the overall churchiness of the weekly gatherings.

As NME and others have pointed out, crucial changes here include the addition of "Christ is here, hallelujah" in "Come As You Are" and a revised "Smells Like Teen Spirit" chorus that trades "with the lights out" for "let your light shine," as well as a flip of the "I feel stupid and contagious" line.
Per Kim Kardashian's Instagram Story updates, the most recent editions of the Sunday Service experience have also featured reworked takes on Snoop Dogg's "Drop It Like It's Hot" and Clipse's megaclassic "Grindin," as well as the beloved No Doubt breakup anthem "Don't Speak."
The Nirvana reinterpretations are of particular interest given last year's excellent Kids See Ghosts, the Kanye West x Kid Cudi collab project that deserves many sequels. On the track "Cudi Montage," you'll find a Courtney Love and Frances Bean Cobain-approved usage of Kurt's "Burn the Rain" riff.