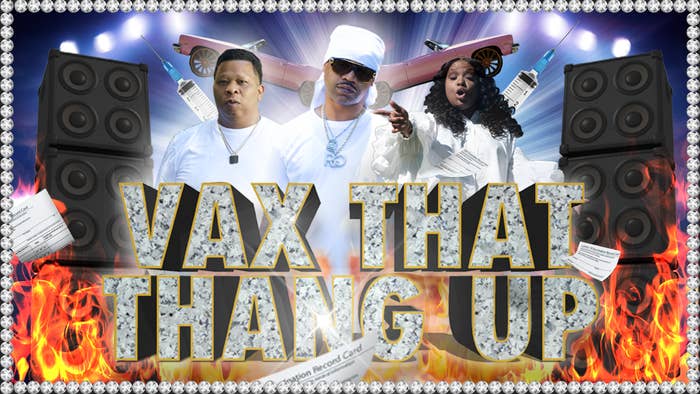 "Back That Azz Up," the classic 1999 single from Juvenile, has been reworked for the pandemic era as part of a campaign to boost vaccination rates.
On Wednesday, Juvenile dropped off the official video for "Vax That Thang Up" featuring Mannie Fresh and Mia X. Lil Wayne, however, is nowhere to be found. In a press release, Juvenile said he was inspired to "do something positive" for people while also promoting the litany of benefits of being vaccinated.
"I just wanted to do something positive for my people and to stand in the front to show that I'm willing to sacrifice my life not just for me but also for my family," the "Slow Motion" hitmaker said. "We don't know what we're facing right now but we really do all need to be vaccinated so we can continue to do our thing and survive."
Technically, "Vax That Thang Up" marks the third iteration of the song. During its heyday, a clean version of "Back That Azz Up" titled "Back That Thang Up" arguably became the more ubiquitous version of the song.
"Do not let your guard down," Mannie Fresh, who also produced the original song, said. "Get vaccinated. I did this project because I wanted to educate my people and I wanted us to live."
The "Vax That Thang Up" rework is a collaboration with BLK, the largest dating app made for Black singles. In partnership with the Atlanta-based creative agency Majority, which was co-founded by Shaq earlier this year, the BLK team is working to encourage more young adults to get vaccinated. The BLK app has also rolled out its Vaxified badge, which allows users to let potential matches know upfront that they're vaccinated.
"The song may be playful and fun, but the underlying message is as real as it gets," Jonathan Kirkland, BLK's head of brand and marketing, said.
In that spirit, head here to find a vaccine appointment near you if you haven't already done so. According to the most recent data made public by the CDC, 157.6 million Americans are now fully vaccinated. Put another way, that's less than 48 percent of the total population.
Despite the U.S. having recently failed to hit President Biden's Fourth of July vaccination goal, experts are still working to inspire more people to get their doses to ensure we (eventually) reach a more comfortable percentage.
Until then, catch the video for "Vax That Thang Up" below.