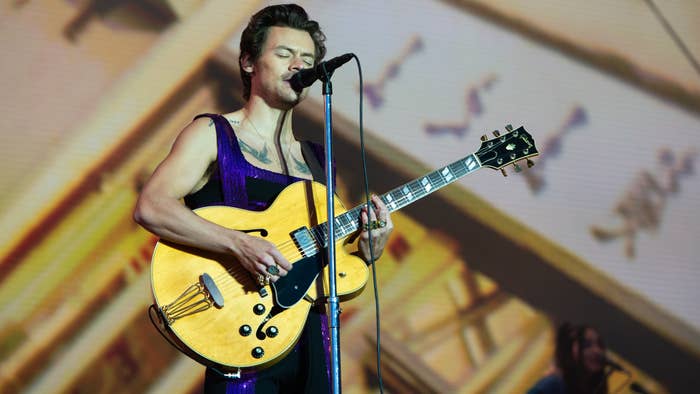 In an expansive must-read new interview, Harry Styles addresses not only the queerbaiting criticism some have leveled against him in recent years, but also how a section of his fanbase has responded to his romance with Don't Worry Darling director Olivia Wilde.
On the former, Styles—whose upcoming film slate also includes the equally anticipated drama My Policeman, an adaptation of the Bethan Roberts novel—was decisive in how he addressed such speculation and related criticism for a Rolling Stone cover feature. Specifically, he referenced how some have been quick to note he's "only publicly been with women," which he argued isn't accurate due to the intended meaning of any such "public" distinction.
"Sometimes people say, 'You've only publicly been with women,' and I don't think I've publicly been with anyone," Styles told writer Brittany Spanos. "If someone takes a picture of you with someone, it doesn't mean you're choosing to have a public relationship or something."
As for My Policeman, which sees Styles playing a gay cop in 1950s England, Styles said, for him, the film tells a story of "love" and "wasted time." Tying into that, he said, is the fact that everyone is on their "own journey" when it comes to "figuring out sexuality."
In Don't Worry Darling, meanwhile, Styles is directed (and joined in the cast) by Olivia Wilde. He and Wilde, of course, have also been the subject of numerous romance-focused headlines as of late, setting off a marathon of targeted social media activity from a small subset of Styles fans who have continued to criticize the relationship. Both Styles and Wilde address this in the new RS piece, with Styles noting the inherent bizarreness (and difficulty) of getting close to him resulting in being "at the ransom of a corner of Twitter or something."
For the full Harry Styles x Rolling Stone experience, hit this link.
Don't Worry Darling, also starring Florence Pugh, hits theaters in the U.S. on Sept. 23 following its premiere earlier that month at the Venice Film Festival. Also in September, My Policeman, directed by Michael Grandage, will debut at the Toronto International Film Festival before receiving a U.S. theatrical release on Oct. 21.
See trailers for both films below.