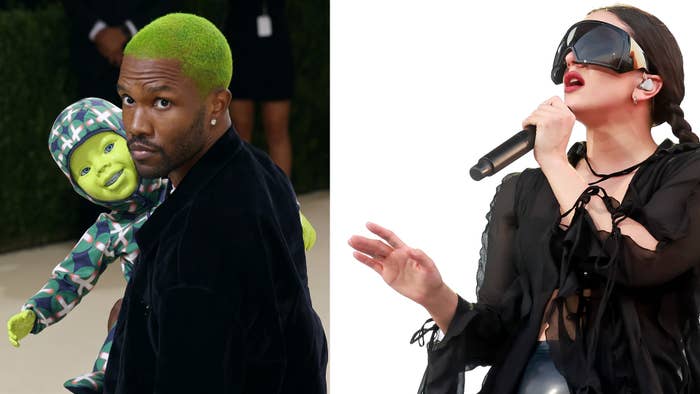 The almost impossible, arguably futile practice of writing about leaks was presented with a new challenge this week in the form of several Frank Ocean-related surfacings.
The chatter comes at an interesting time for Ocean fans, who are still reeling from the coverage surrounding the revered artist's divisive Coachella set. As previously reported, Ocean ultimately opted not to return for the second weekend of the 2023 festival, citing a leg injury.
In recent days, fans have been in operating in warp speed on Reddit and Twitter, as well as elsewhere, in response to several alleged leaks. At the time of this writing, at least two of these alleged leaks—originally surfacing under the claimed titles of "Steer It" and "The Line"—have been widely discredited as likely being the results of an A.I. scam.
The veracity of another alleged leak, titled "These Days," has not been confirmed. Fans, however, were initially showing more confidence in this particular track being legitimate. Given that it's a leak, it's safe to say we can most likely not expect anything to ever be confirmed.
Most of the attention as of late has been focused on another, far more in-depth leak: namely, an alleged collaboration between Frank Ocean and Rosalía. The track, listed widely under the title "Changes," is brought to life in an apparent music video that also appears to features appearances from ASAP Rocky and Slowthai.
The alleged video leak circulating at the time of this writing was of a decidedly not-great quality, though fans have since taken to upscaling select shots from the video. As for the song, it's a low-key entry that builds atop a melodic bass line one could see being a streaming hit if it were to ever receive a formal release.
While fans had initially linked the video to director Hidji Films, he has since seemingly said in an Instagram Stories update that it isn't his, adding, "I don't take credit for other people [sic] work."