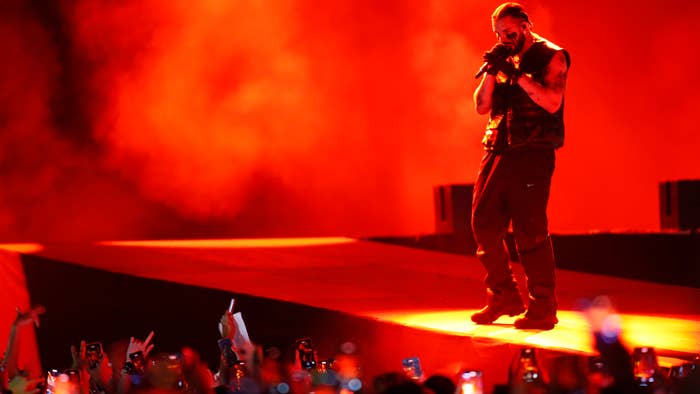 Drake says his first of several It's All a Blur dates at the Kia Forum in Inglewood was almost called off due to apparent production issues.
Speaking to the crowd on Saturday, Drake said he insisted on finding a way to make good on the show due to how important Greater Los Angeles is to him personally.
"I don't mean to put the Forum on blast or anything but I'mma tell you the truth," Drake said, as seen in footage from the show. "They came to my house this morning after I woke up and they told me that they couldn't build the show for y'all tonight. I'm not really that good at taking no for an answer. I told them, I said, when I left Toronto I had a picture on my screensaver. It was of a house in Los Angeles. I said, the one place that took me in when I left my hometown was Los Angeles, California."
Amid cheers for his expression of love for the city, Drake continued, notably urging all in attendance to offer some applause to those responsible for erecting the stage design.
"So I said, if y'all don't get y'all asses back to that arena and put this motherfucking show together, we gon' have a real problem tonight," the "Summer Games" sequel denier said. "So before we start, I want you to make some noise for everybody in this building that put this show together for y'all. We rockin tonight."
Drake and 21 Savage continue their four-show It's All a Blur run at the Forum on Tuesday, followed by a pair of Crypto.com Arena stops in Los Angeles later this month. The tour is slated to run through early October, including double stops in Nashville and Toronto. At the top of this month, the Memphis date of the tour was confirmed to have been canceled due to production problems.
A recent addition to the remaining dates on the tour is Sexyy Red, who publicly thanked Drake for the invite over the weekend.
The tour has been a consistent headlines generator since it kicked off in July. This past week alone, for example, Drake received coverage for a bra-based request and for his response to a viral towel toss incident.
In Inglewood, notably, Drake also gave his recently released Travis Scott collab "Meltdown" its live show debut. See footage below.