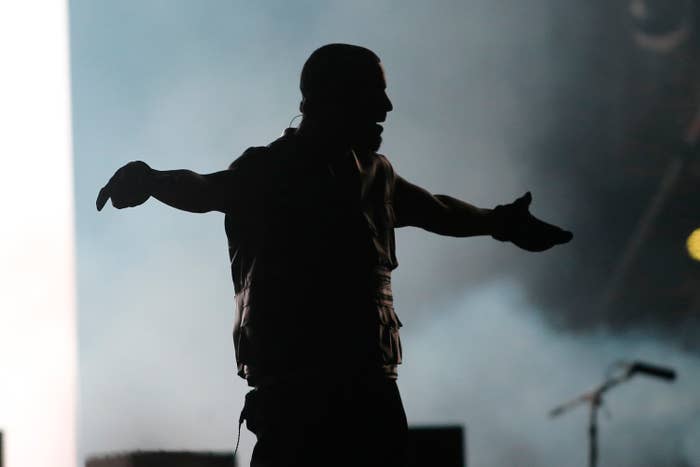 Drake just played seven shows in New York City, and there's a lot to talk about.

It's his first tour in five years, and his first chance to play songs from projects like Her Loss, Honestly, Nevermind, Certified Lover Boy, and Dark Lane Demo Tapes. Performing in both Madison Square Garden and the Barclays Center, he was joined by an A-list cast of friends, from Lil Yachty to Stephen Curry to Sexyy Red.

But how was the show? How do all of Drake's new songs translate to arenas? And at this point in his career, what does his live show say about his legacy in rap? After attending three different shows (the first two nights at Barclays and the first night at MSG), members of the Complex Music staff—Eric Skelton, Jessica McKinney, and Jordan Rose—shared their thoughts, which you can see below.

What was the best part of the show?
Eric: Early in the show, Drake goes on a run from "Over" to "Headlines" to "The Motto" to "HYFR" to "Started From the Bottom" to "Energy" to "Know Yourself" to "Nonstop" to "Sicko Mode." Then, right after playing nine massive hits back to back, he looks up at the crowd and says, "I'm really just getting started." And he's not lying. For the next 90 minutes, he just keeps pulling from a bag of era-defining songs, from "God's Plan" to "Rich Flex." At most concerts, there are one or two peak moments where everyone knows every word of an artist's biggest hit, but for Drake, it's the whole damn show. The setlist was very impressive, and Drake's energy levels were high the entire night.
Jordan: Drake has one of the strongest and most diverse catalogs in rap history, and his range is on full display during this tour. Few artists can go hit-after-hit for 30 minutes straight, but Drake does it with ease and still finds ways to incorporate new and unique mixes to his classic tracks. The show runs for about two hours, but it doesn't feel that long thanks to Drake's stage presence and how he can control a crowd.
Jessica: I think the best part of the show was simply seeing Drake for the first time in a very long time. The last time I saw him was on the "Would You Like A Tour" trek in 2014, so it's been almost 10 years and a lot of new music has come out since then. It was nice to see an even more seasoned Drake run through a lot of his greatest hits.
What was the worst part of the show?
Eric: The flow. I appreciate that they tried switching things up, but the decision to bring 21 Savage out in the middle of Drake's set (instead of having him open the show) stalled the momentum a little. I can't think of many rappers on the planet who could jump onstage right after 15 Drake hits in a row and keep the same energy, so Savage was put in a difficult position here. He did his best considering the circumstances, but I think the flow would have been better if Savage just opened.
Jordan: I really enjoy 21 Savage's music, but the way he's inserted into the show was not fluid at all. Drake has such control of the crowd during the midway portion of the show, that 21 Savage being shoehorned into it and having his own short set feels disjointed and does a disservice to both acts. I wish he would have either came in earlier or just performed with Drake.
Jessica: Drake is innovative and thoughtful when it comes to his music, but I hate to say it: he isn't as tasteful or visionary when it comes to his live show visuals or aesthetic. The stage props and breaks in the show were unnecessary and made no sense in the show. I like how Drake opened, rapping "Look What You've Done" next to his younger self in hologram form, but the young Drake "hologram" didn't need to come out again during the segment of sitcom theme songs (the deep fake AI filter over his face was also unconvincing). The giant stripper blowup doll, Peter Pan, and Grim Reaper that appeared at various moments throughout the show were also unnecessary and corny. Sure, Drake has always been corny and lives for a meme-worthy moment, but sometimes I wish he would introduce more polishing and aesthetic into the things he does. We don't necessarily need vibrant lighting or high fashion and art at his shows, but at the very least the show should be cohesive and make sense. I also wasn't too excited about the show's format. Having 21 Savage come in right at the point of the show when Drake is running through some of his biggest bangers was a big mistake. It completely shifted the energy at the Barclays. I know a lot of people took bathroom breaks and ran to get merch during this point in the show.
What surprised you the most?
Eric: I didn't expect to see Drake give Sexyy Red a kiss (lol) but besides that… I was surprised by his choice to walk over to the DJ area and do remixed versions of songs like "Controlla" and "One Dance" midway through the show. The energy dipped a little, but it was cool to see him do these songs in new ways after previously touring them, and it transitioned very well into Honestly, Nevermind.
Jordan: I've seen Drake perform once before this, during his two-night stay at the Apollo Theater. His setlist for that show and during this tour are very similar, but I was surprised with the added bells and whistles he included to this performance. The new theatrics he includes in between songs and the energy he had when performing some of his older tracks was refreshing, and it made the entire show feel like one giant story he was trying to tell.
Jessica: I half expected him to bring out more guests during his set.
What did you think of the visuals and theatrics?
Eric: It's very Drake. Ever since "Hotline Bling," his visuals (album covers, music videos, merch, etc) have been designed to go viral, and his tour is no different. It might actually be the most made-for-Instagram show I've ever been to, and every few minutes, there's a new visual that's meant to be photographed and cause a stir online, from the floating sperm to the Childish Gambino dig to the childhood Drake "hologram." Are these tour visuals as artful as the ones we've seen from artists like Kendrick Lamar and Tyler, the Creator lately? Not quite. But that's not the point. They're meant to extend past the arena walls and reach an even bigger audience online. Judging by the constant flow of Drake tour posts showing up on my IG feed lately, it's working.
Jordan: As someone else on the Complex staff said, the visuals and theatrics of this show were very "juvenile." The inflatable anime girls and floating sperm add nothing to the show, and while they illustrate how tapped in Drake is to meme culture, they feel too over the top. I wasn't as distracted by them as I thought I would be after seeing videos of them online, but I don't think the jokes land like he thought they would.
Jessica: As I wrote earlier, I'm aware of Drake's usual antics, and sometimes I'm here for them, but I just don't think it worked for a tour. It was more confusing than anything else.
What does this tour say about Drake's legacy?
Eric: Drake's catalog is undeniable. When it comes to the sheer volume of commercial hits he can string together in a two-hour concert, he's unmatched at this point (or at least in the conversation with a select few, like Jay-Z). He's tapped into so many subgenres that he can put together a two-hour set with more range than anyone right now, which makes for a very fun show. After performances like this, a lot more people are going to be joining Jim Jones when it comes to bringing up Drake's name in GOAT conversations.
Jordan: After being in the rap game for over a decade and amassing more hits than the literal Beetles, all of the leg work that Drake has put in is paying off. "It's All a Blur" is a trip down memory lane that could have been in stadiums. Few artists can perform as many hits as Drake can and maintain energy for an entire two-hour show, but he does so with ease. This tour is a testament to how dominant of a career Drake has had, and why he should be considered one of the best artists to ever pick up a mic.
Jessica: Being that this tour is called "It's All A Blur," I sort of anticipated it being an eras tour in the same vein as Taylor Swift's ongoing arena tour. While Drake definitely ran through his hits from different albums and points in his career, I think it was a missed opportunity that he didn't play more into his lengthy and impressive career-spanning career in regards to the setlist's sequencing and stage design/props. Nevertheless, when looking at just the songs alone, this tour further demonstrates Drake's dominance in music culture throughout the years. He truly has too many hits to count.