The worlds of online betting and real-life feet are being brought together by Drake, an apparent appreciator of both.
In an Instagram update shared on Thursday, Drake put his best foot forward while promoting an upcoming $1 million giveaway with the online casino and betting platform Stake. Drake, of course, has a partnership with the platform and has been known to careen into headlines in connection with his Stake activities. The giveaway in question, per Drake, will see the self-deemed "roulette ransacker" streaming live via Kick on Saturday.
In the caption of the post, as seen below, Drake brought the wildly popular influencer Corinna Kopf into the conversation by way of a livestreamed foot massage invitation. Kopf, notably, has more than seven million followers on Instagram and nearly two million likes on OnlyFans.
"I might massage [Corinna Kopf's] feet live on air you just never know," Drake wrote. "TUNE IN."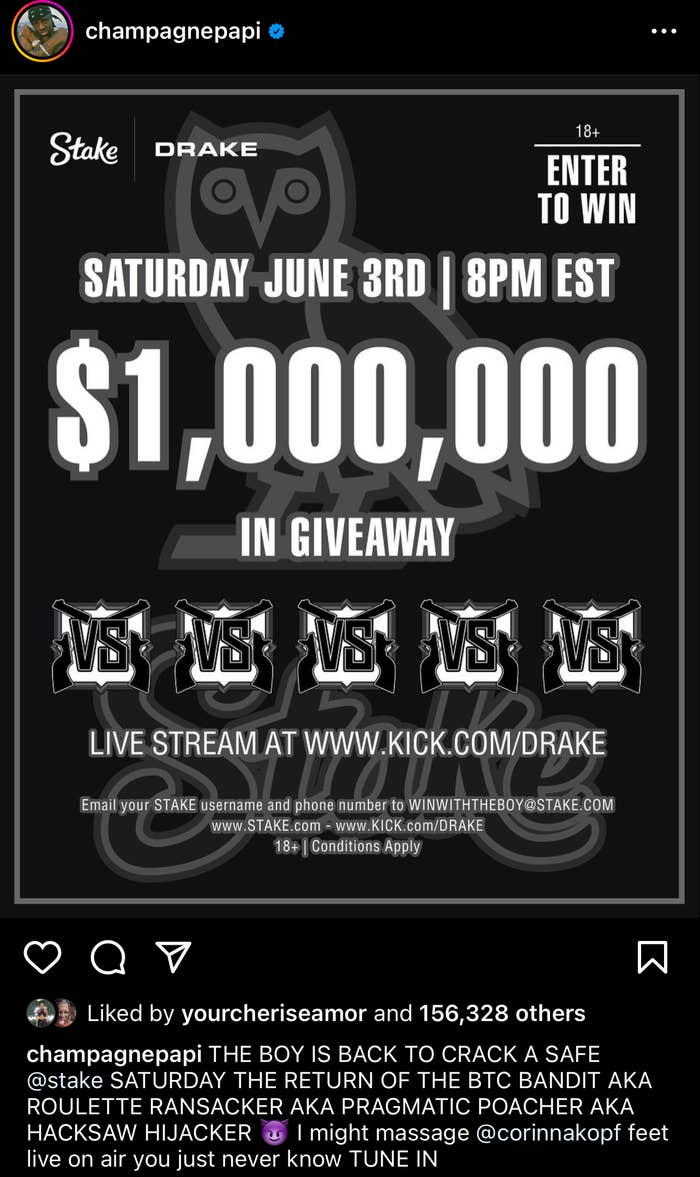 Kopf, who's also a Stake partner, was quick to reply to Drake's invitation with a simple "i'm waiting" accompanied by feet emoji.

As for whether this foot promise will actually come to pass, that remains to be seen. It's worth noting, however, that this isn't the first foot-focused story from the Drake universe in recent weeks. As previously reported, he recently launched a cashmere collab collection with The Elder Statesman featuring a $415 pair of socks.
Drake is currently fresh off his surprise (but narratively fitting) appearance on the season finale of Dave. The episode, quite possibly one of the finest of the entire series, also featured Brad Pitt in a prominent role as himself.