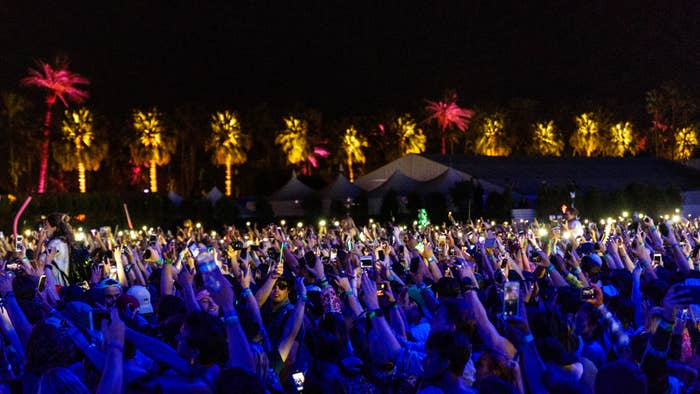 It's top of a new year, which—for the pandemic era iteration of live music—means fans and organizers alike are left with a number of question marks surrounding major festivals like Coachella.
The Indio, California-set festival hasn't taken place since 2019 due to continued COVID-19 concerns. The initially announced lineup for the ultimately-called-off 2020 event included confirmed headliners Travis Scott, Frank Ocean, and Rage Against the Machine.
While Coachella is still (at the time of this writing) set for a return in April, the full 2022 lineup hasn't been officially announced. A number of recent developments, however, show that Coachella's return (potentially featuring a Donda-era performance from Ye) may not resemble the original 2020 plans as much as had (at one point, at least) been expected.
Below, we take a look at some of the names mentioned as potential 2022 headliners, including speculative info on where their involvement with this year's festival currently stands. Complex has reached out to reps for Kanye West, Billie Eilish, Swedish House Mafia, Travis Scott, and Coachella organizers Goldenvoice for comment.
Ye, who fans will note previously delivered a classic Coachella performance back in 2011, is the latest artist to be reported as having joined the 2022 lineup. While nothing has been officially confirmed, Variety reported on Wednesday that Ye and Billie Eilish (more on Eilish below) "are slated to headline" this year's festival.
With Ye having recently been confirmed to have begun work on a Donda sequel, and with the original up for Album of the Year at the 2022 Grammys, a headlining festival set from the always-memorable performer doesn't seem out of the question.
Though nothing has been formally announced, recent reports from both Hits Daily Double and TMZ mention the Happier Than Ever artist as a headliner for 2022. Fans will note that Eilish's current tour plans for the year do not include any prior show commitments overlapping with Coachella dates. Per TMZ, Eilish—who previously performed at Coachella in 2019—"has signed on" to headline this year. 
Again, there hasn't been anything made public in the way of announcements confirming either possibility here, but last year's Astroworld Festival tragedy (which ultimately resulted in the deaths of 10 attendees) has many speculating that it's not likely Scott will be among this year's Coachella headliners.
The tragedy, which has spurred a number of lawsuits and was the subject of a December interview with Charlamagne tha God, was cited in a recent WWD-shared statement from Dior as having inspired the decision to "indefinitely" postpone a collaborative Cactus Jack collection.
TMZ claimed Wednesday that Scott was "almost certainly out" when it comes to headlining Coachella this year. This follows a December 2021 report from Variety which said the rapper "has been effectively removed from the lineup," though nothing official has been shared yet about that outcome.
While the near-mythical rock band's current tour schedule does indeed suggest that it's quite possible for the Battle of Los Angeles artists to be a part of the 2022 assortment, HDD claimed Wednesday that 2022 plans had been complicated by the exact opposite. According to the report, RATM "has dropped out."
The house music group has been officially confirmed to be performing this year, though it's still not clear whether they will be doing so in a headlining capacity as TMZ and HDD reported.