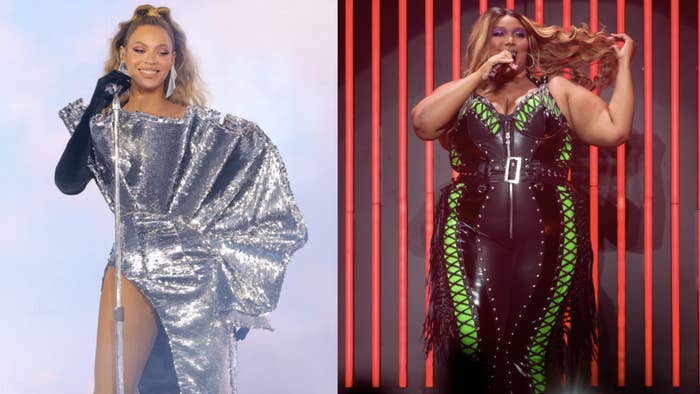 UPDATED 8/15, 8:44 a.m. ET: During a recent stop on her Renaissance Tour, Beyoncé shared some "love" for Lizzo after she was named in a lawsuit filed by former dancers.
In the footage, as seen below, Beyoncé adds in an "I love you, Lizzo!" while performing a remix of "Break My Soul" that notably already features a lyrical mention of the singer.
The clip is noteworthy due to it arriving after a prior live version of the song was interpreted by some as showing Beyoncé intentionally leaving Lizzo's name out of the lyrics.
See original story below.
Beyoncé seemingly skipped over Lizzo's lyrical mention in the Queens Remix edition of her Renaissance track "Break My Soul" at a recent tour stop.
As seen in the clip below, the moment appears to have happened at Beyoncé's Foxborough, Massachusetts show on Tuesday. That same day, as previously reported, Lizzo was accused of (among other things) weight-shaming and threatening dancers.
In the recorded version of the track, Beyoncé sings the following in the third verse:
"Badu, Lizzo, Kelly Rowl'"
However, in footage that recently made the rounds, Lizzo's name sounds like as it's been omitted from the live vocals. Instead, Beyoncé is heard repeating Erykah Badu:
"Badu, Badu, Badu, Badu"
Some fans have taken this to be Beyoncé's way of responding to the Lizzo controversy, even going so far as to imagine what Lizzo's own reactions to seeing this clip would be. However, others have noted the additional omission of Beyoncé's fellow Destiny's Child alum Kelly Rowland in this instance, arguing that this lyrical alteration could instead be a reference to recent remarks made by Badu.
Over the weekend, Badu shared a photo of Beyoncé taken during another recent tour stop.
"Hmmm," she wrote in the caption. "I guess I'm everyone's stylist. favorite chrome mirror hat."
As for the Lizzo accusations, three former dancers for the singer filed a lawsuit in Los Angeles on Tuesday. In a statement, attorney Ron Zambrano summarized the allegations against Lizzo, who had not publicly commented on the lawsuit at the time of this writing.
"The stunning nature of how Lizzo and her management team treated their performers seems to go against everything Lizzo stands for publicly, while privately she weight-shames her dancers and demeans them in ways that are not only illegal but absolutely demoralizing," Zambrano said.