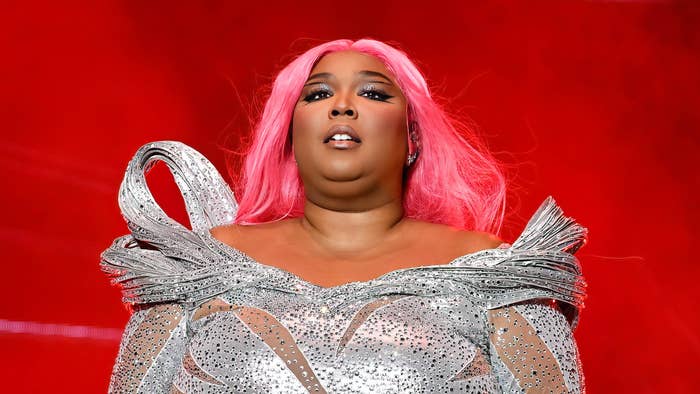 UPDATED 9/28, 11 p.m. ET: Lizzo's lawyers issued a response on Thursday, asking the court to throw out the harassment case filed by the singer's former dancers Arianna Davis, Crystal Williams, and Noelle Rodriguez.
In their filing, obtained by Deadline, Lizzo's legal team denies "generally and specifically each and every allegation contained in the complaint" and requests that the case be "dismissed in its entirety with prejudice."
Lizzo, her production company Big Grrrl Touring, Inc., and dance team captain Shirlene Quigley are facing allegations of sexual, racial, and religious harassment.
"This is the first step of a legal process in which Lizzo and her team will demonstrate that they have always practiced what they've preached—whether it comes to promoting body positivity, leading a safe and supportive workplace or protecting individuals from any kind of harassment," Stefan Friedman, a spokesperson for Lizzo, said in a statement. "Any and all claims to the contrary are ridiculous, and we look forward to proving so in a court of law."
The dancers' attorney Neama Rahmani also released a statement, saying Lizzo's response consisted of "boilerplate objections that have nothing to do with the case." Rahmani said they came away from the filing with the understanding that the singer's legal team has agreed to take this dispute to trial.
UPDATED 8/10, 7:36 a.m. ET: Ron Zambrano, an attorney for the plaintiffs in the previously announced lawsuit against Lizzo, has released a statement alleging that six additional people have come forward with "similar stories." Per Zambrano, it's "too soon to say" whether these latest claims will also result in legal action being taken.
"We have received at least six inquiries from other people with similar stories since we filed the complaint," Zambrano said. "Noelle, Crystal, and Arianna have bravely spoken out and shared their experiences, opening the door for others to feel empowered to do the same. Some of the claims we are reviewing involve allegations of a sexually charged environment and failure to pay employees and may be actionable, but it is too soon to say."
As previously reported, Lizzo recently responded to the original lawsuit news in a statement shared to social media.
"Usually I choose not to respond to false allegations but these are as unbelievable as they sound and too outrageous to not be addressed," Lizzo said last week.
See original story below.
Lizzo is facing a lawsuit from three of her former dancers accusing her of sexual harassment, fostering a hostile work environment, and more.
In the lawsuit filed in Los Angeles Superior Court on Tuesday per a press release, Lizzo, her production team and Shirlene Quigley, captain of her dance team, are being accused of several allegations, including weight-shaming, forcing dancers to endure sexually denigrating behavior, preaching about sexuality and Christianity, and pressuring them into participating in disturbing sex shows.
The dancers, named Arianna Davis, Crystal Williams, and Noelle Rodriguez, alleged Lizzo and her team put them through various sexual, religious and racial harassments, disability discrimination, assault and false imprisonment, and more. Davis and Williams were fired, while Rodriguez resigned over the alleged behavior of Lizzo and her team.
"The stunning nature of how Lizzo and her management team treated their performers seems to go against everything Lizzo stands for publicly, while privately she weight-shames her dancers and demeans them in ways that are not only illegal but absolutely demoralizing," said the plaintiffs' attorney Ron Zambrano.
Davis and Williams met Lizzo in March 2021 while preparing to appear on the singer's reality TV show, Lizzo's Watch Out for the Big Grrrls, which gave contestants a shot at competing for a spot in the artist's dance crew. Once the show began filming in August 2021, Davis and Williams met Quigley while Rodriguez was hired in May of that year after appearing in the music video for Lizzo's "Rumors."
Quigley didn't make things easier for the dancers as she allegedly pushed her beliefs on the three and shared explicit details of her sex life with her husband and more.
"Ms. Quigley was not only vocal about her religious belief but took every opportunity to proselytize to any and all in her presence regardless of protestations," added the lawsuit. "Ms. Quigley discovered that Ms. Davis was a virgin and Ms. Davis's virginity became a topic of extreme importance to Ms. Quigley."
"In the months to follow, Ms. Quigley would routinely bring up Ms. Davis' virginity in conversations with Ms. Davis. Ms. Quigley even mentioned Ms. Davis's virginity in interviews she participated in and later posted to social media, broadcasting an intensely personal detail about Ms. Davis to the world."
If that weren't bad enough, the dancers also claimed Lizzo pushed them to sexually interact with nude performers at a club in Amsterdam. They weren't required to attend, but the dancers felt they had to in fear of losing their jobs.
"Lizzo began inviting cast members to take turns touching the nude performers, catching dildos launched from the performers' vaginas, and eating bananas protruding from the performers' vaginas," read the lawsuit. "Lizzo then turned her attention to Ms. Davis and began pressuring Ms. Davis to touch the breasts of one of the nude women performing at the club."
The lawsuit also stated that Lizzo continued her behavior after a show in Paris where she "tricked" her dancers into going to a nude cabaret club. The plaintiffs also claimed they weren't appropriately paid like the other dancers on the team during "downtime" and were told by an accountant that their actions were "unacceptable and disrespectful."
The nature of the lawsuit comes as a surprise, given Lizzo's penchant for speaking out against body-shaming and spreading positive messages in general. Lizzo has yet to respond to the lawsuit as of press time.