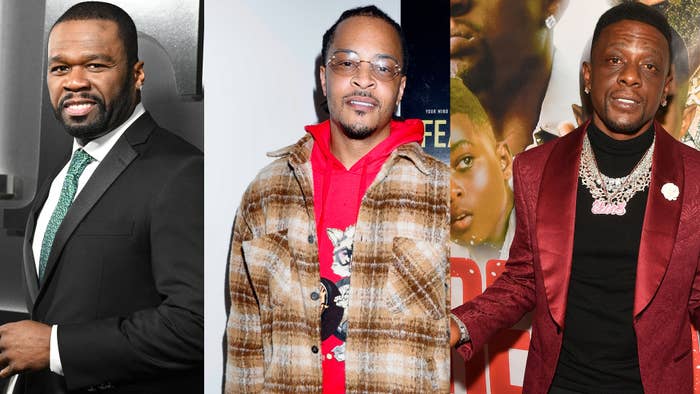 T.I. is offering some clarity to those who may have still been confused amid continued coverage of what he described as his recent "kerfuffle" with Boosie Badazz. Meanwhile, 50 Cent has entered the conversation with an edited joke video on Instagram.
As previously reported, T.I. and Boosie had a back-and-forth in recent days centered on comments the former made back in 2020 about his late cousin, Toot. In Boosie's eyes, the comments—namely, the interpretation positing that T.I. put the blame on his cousin to dodge a weapons charge—were enough to shelve a would-be collab album between the two.
In a subsequent interview with Trap New Networx, T.I. first expressed frustration over Boosie not having reached out to him directly about the disagreement, saying this "baffled" him. Later into the discussion, he explained how he had embellished the story in question as part of a larger discussion.
"It came from a conversation that my partner and I were having and that conversation was, 'If me and you catch a case together and I die before you, it's mine. It's mine,'" T.I. said. "He's like, 'Nah, I can't do that.' Yes you can; it's mine. Why can't you? I don't understand it. … He said, 'Nah, I can't do it.' He said, 'I can't really say nothing about anybody who do but I can't do it.' So off of that conversation, I created a set of circumstances and I thought that the embellishment was clear when I said I talked to my cousin and he told me."
From there, T.I. said that "humor, sarcasm, and satire" had been lost when it came to how his remarks had been interpreted.
"I'm taking it from a vey real place and adding some embellishment to it to fit the needed discussion," he added.
For 50 Cent, the back-and-forth provided the ideal scenario to quote G-Unit lyrics while sharing a Judge Mathis-featuring clip. Specifically, 50 excerpted the 2008 track "You So Tough," including several lines long pointed to by listeners as references to T.I.'s 2007 arrest and subsequent sentence.