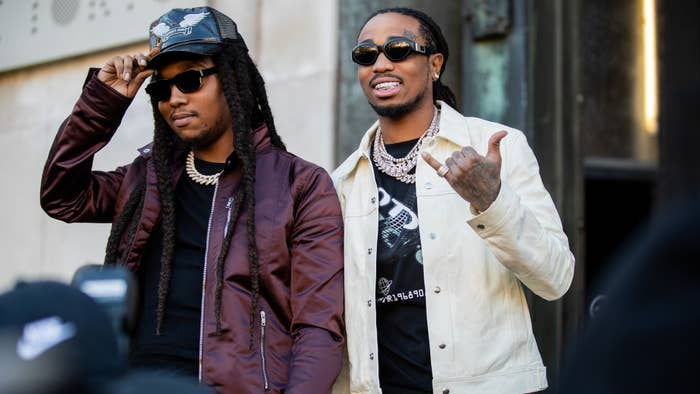 Quavo took the stage at the 2023 Grammys, where he paid tribute to Takeoff by performing the song "Without You," which he released following his nephew's death.
Produced by Zaytoven, Murda Beatz, and Mike Dean, among others, the track sees the 31-year-old rapper singing: "Out in the galaxy, up in the stars/Over the universe, it's bigger than Mars/See you in heaven, see you heaven/When I see you in heaven, I'ma be with my dog.
Needless to say, the emotional performance was met with an equally emotional reaction online, especially when Quavo picked up and held Takeoff's chain. 
Takeoff was shot and killed on Nov. 1 in Houston, Texas. He was only 28 years old at the time. A man named Patrick Xavier Clark was later arrested in early December, and in early January, he posted his $1 million bond and was released from jail.
On Nov. 12, Quavo addressed Takeoff's tragic death in a letter on Instagram: "It's so hard to tell you I'ma miss you because you always with me and we did everything together," he wrote. "Since we were kids you been by my side, lookin up at me, them eyes waiting on me to make the next move...then you followed up right behind me."
Watch the video for "Without You" below.