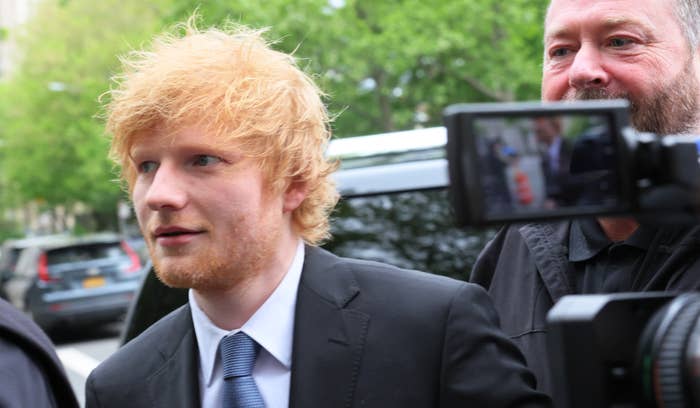 Ed Sheeran is not liable for copying Marvin Gaye's song "Let's Get It On."
TMZ reports that the Manhattan jury shared the verdict on Thursday, saying that Sheeran's 2014 song "Thinking Out Loud" did not replicate key harmonies and melodies from Gaye's famous song.
Sheeran was hit with the lawsuit late last month when the estate of Ed Townsend—who co-wrote "Let's Get It On"—accused Sheeran of copyright infringement. The UK singer testified in the trial, denying the allegations. He even performed on the stand, playing his guitar and singing the first line of "Thinking Out Loud" to show that it wasn't like Gaye's song.
Sheeran's performance was a response to a music expert who testified for the plaintiffs and said that the chords from the beginning of "Thinking Out Loud" are "virtually identical" to "Let's Get It On." He also discussed his creative process during his testimony, sharing how he and co-writer Amy Wadge wrote the song and what their inspiration was behind the track.
Earlier this week in court, Sheeran also said that he's "stopping" his career if he was found guilty of copying Gaye's song. "I find it really insulting to work my whole life as a singer-songwriter and diminish it," he added.
The lawsuit was filed by Townsend's heirs: his daughter Kathryn Townsend Griffin, sister Helen McDonald, and the estate of his former wife Cherrigale Townsend. They were reportedly seeking $100 million in damages. The family of the late Marvin Gaye were not a part of the suit.