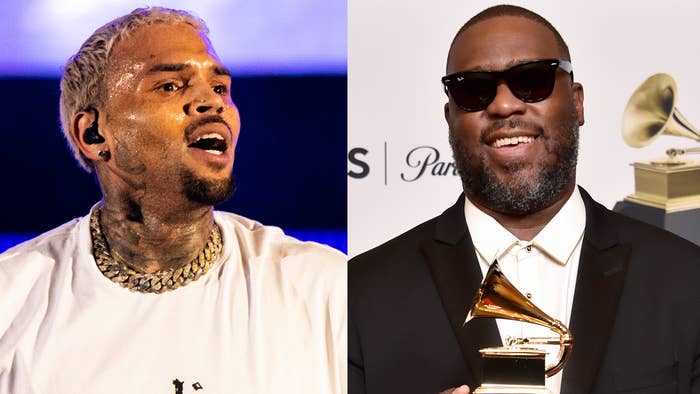 Chris Brown wasn't happy that he was passed over for best R&B album at the Grammys.
The singer apparently shared his anger via his Instagram Story. According to The Shade Room, in since-deleted posts, Brown posted an image of Robert Glasper and wrote, "Y'all playing. Who da f*ck is this?" alongside a few crying-laughing emojis.  "Who the f*ck is Robert Glasper," he continued. "I'ma keep kicking y'all ass respectfully."
He didn't stop there. Brown then posted additional stories to his IG, writing, "I gotta get my skills up…Ima start playing the harmonica." The following image was an edited photo of him playing the harmonica, captioned, "New Level Unlocked! Harmonica Breezy."
Brown's 10th studio album Breezy (Deluxe) was up for the Grammy Award, against Glasper's Black Radio III, Mary J. Blige's Good Morning Gorgeous (Deluxe), Lucky Daye's Candydrip, and PJ Morton's Watch the Sun.
Breezy (Deluxe) debuted at No. 4 on the Billboard 200 and featured Lil Baby, Lil Wayne, Jack Harlow, and H.E.R., among others. Black Radio III also featured some iconic artists, including Killer Mike, Q-Tip, Common, H.E.R., Jennifer Hudson, Ty Dolla Sign, and more. It was the third installation in Glasper's Black Radio series, with the first project arriving in 2012 and Black Radio 2 dropping the following year.