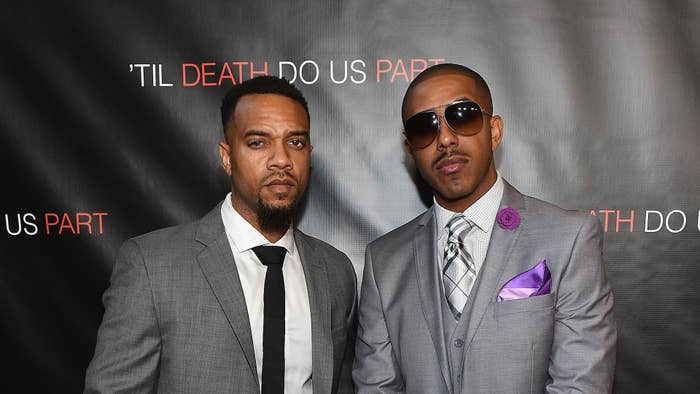 Marques Houston's controversial comments about women's age didn't sit well with one of his Immature bandmates.
Young Rome took to his Instagram to say he completely disagrees with Houston, and that "as a member of Immature, I would like to extend my sincerest apologies in regards to the insensitive statements made by my former group member."
Rome wrote, "We were raised by a tribe of strong independent women who faced hardships we will never fully understand. Women today have enough battles to endure, including the policing of their bodies, equal pay in the workplace, and beauty standards. It is never ok to degrade one group of women in order to praise another. Black women in particular are often on the receiving end of the constant negative stereotypes they fight against daily."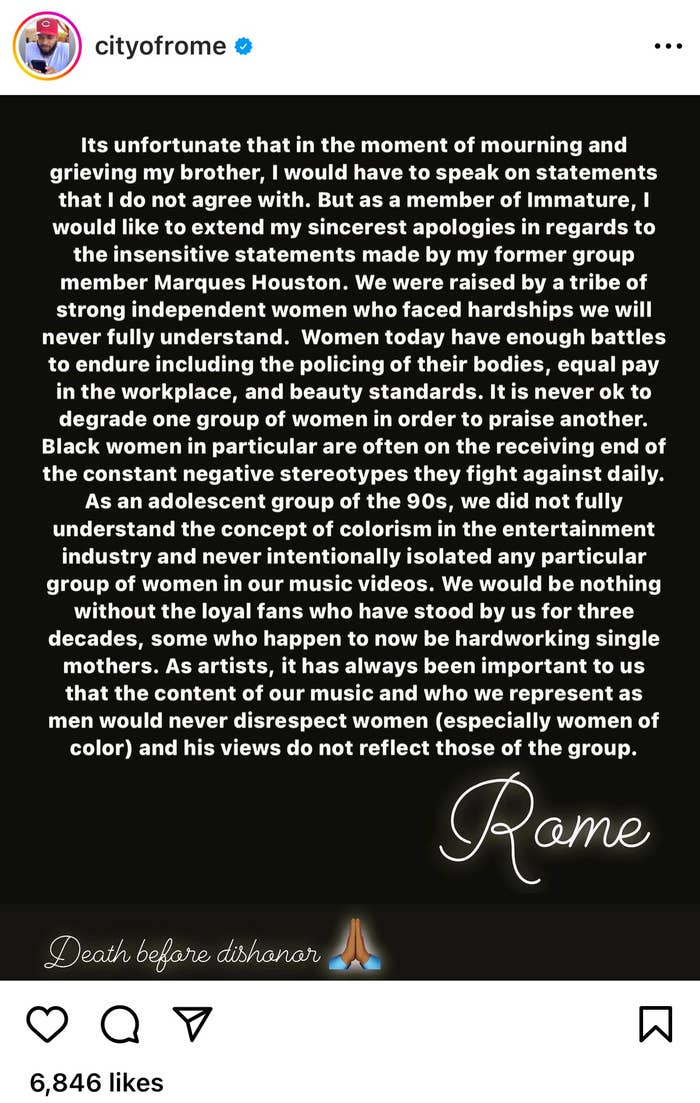 Young Rome (a.k.a. Romeo) went on to say that he, Houston, and fellow Immature member Kelton "LDB" Kessee weren't aware of rampant colorism in media when they were young performers in "an adolescent group of the 90s," and that they "never intentionally isolated any particular group of women in our music videos."
"We would be nothing without the loyal fans who have stood by us for three decades, some who happen to now be hardworking single mothers," Rome said. "As artists, it has always been important to us that the content of our music and who we represent as men would never disrespect women (especially women of color) and [Marques'] views do not reflect those of the group."
Young Rome signed off with a simple but pointed "death before dishonor."  
Marques Houston​​, 41,​ recently​​​​ spoke in an interview about his 19-year age gap with wife Miya Houston, 22.
"There's a lot of women my age I've dated, they may have baggage," Marques told Page Six. "A red flag to me [was] always with a woman that had a kid. Nothing against single women, but single mothers with children are a red flag for me."
He applauded single mothers for holding down the household, but also shared how his father advised him to have his own children and never deal with "baby daddies."
"I could've married a 44-year-old woman, and it could've been disastrous," continued Houston's misogynist remarks. "Women that are my age…they kind of have a different outlook on life. Like a lot of women my age are very independent. They are very like, 'I don't need a man to do this for me 'cause I can do it for myself.' I come from a generation that I love to provide for my wife."
The singer's relationship came under fire after people on social media picked up on the fact that he met his now-wife when she was 17. 
On TV One's series Uncensored, the singer said, "Me and my wife's situation is a little different, how we met through mutual friends and everything like that. When I met my wife, she was 17. We had no, really, conversation and no, really, connection until she was of age."
The two got engaged in 2019, married in 2020, and welcomed their first child in 2021.