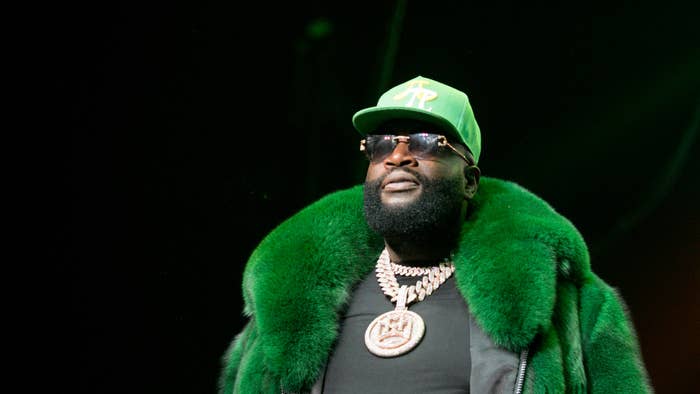 Rick Ross addressed his neighbor's concerns about his wandering farm animals that were spotted grazing on her land.
This past weekend, news broke that Ross' buffaloes and cows were roaming beyond his 235-acre Georgia ranch, named Promise Land. His neighbor came home to a scary sight, seeing two 2,000-pound Bison and a bull allegedly destroying her property. She has extreme concerns about the massive animals, saying they are too "dangerous" for her small children to be around.
The Rich Forever rapper took to his Instagram Stories to respond to the backlash, saying, "Everybody that's wanting a statement and a response for my bulls, my cows, a couple of buffaloes that got away in the community, this is my response. I always return stray animals. Make sure you always keep a collar on your animal. And mine don't have a collar 'cause you know it's mines."
"So when you see my buffalo, give it a carrot. Give it a apple. They so kind, they so peaceful. Thank everybody for watching. Thank everybody for making sure all of my animals got back into the Promise Land. … All my neighbors, Fayetteville, y'all the best. Boss," he said as he signed off.
In a separate video, the Miami native shared his appreciation for TMZ for reporting the incident, and emphasized that his animals are gentle and will not harm humans.
"They are very peaceful—they're just grazers, they're not meat-eaters," he insisted.
Initially the neighbor confronted Ross, but received pushback as she got into a verbal argument with one of his team members. According to TMZ, the mother is allegedly filing a neighbor dispute to keep Ross' animals off her land for good.