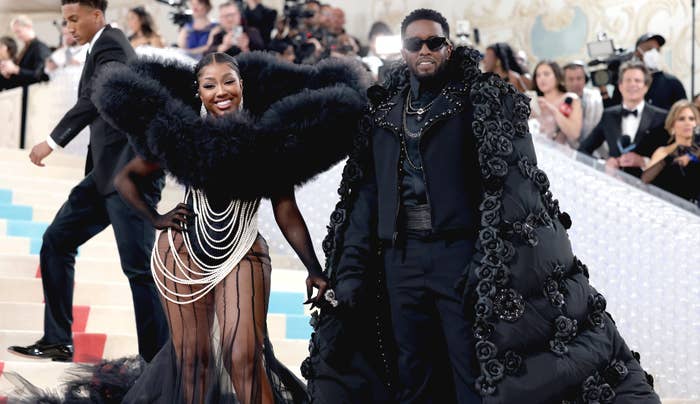 On Monday, Diddy attended the 2023 Met Gala accompanied by his "best friend" Yung Miami. 
After months of on-and-off romance speculation about the pair, TV host and BMF actress La La Anthony got down to it and pressed the mogul about whether he and the City Girls rapper are officially together. (Less than two weeks ago, Miami told The Cut "no" when asked the same thing. "We're still good friends! But we're single. That's not my man," she said.) 
"I'm asking, I wanna know," La La told Diddy. 
"She gonna answer that," he said with an evasive laugh, wiping his forehead as Miami cackled in the background. "Nah, nah, yes, of course—real bad, we here."
"Alright, real bad? It's official, real bad?" La La pushed.
"I don't know what you asked me exactly. We definitely go together real bad. … She's my date for the night, she's incredible," said the Bad Boy CEO.
The Caresha Please host jumped into the conversation, clarifying, "Yeah, we on—it's just a good date night, you know?" 
"We don't put titles on it. Everybody wants us to put a title on it, we don't put titles on it," Diddy explained. "This is like my best friend in the world. One of the most beautiful people God has blessed me to meet, and I'm blessed that she's my date tonight." 
Seemingly stressed from Anthony's questions, the 53-year-old asked for a napkin, admitting, "Damn, I'm sweating."
La La approved of his answer, saying, "Maybe y'all on to something. No titles might be it, for sure." 
"Yeah, no titles, no titles," Diddy agreed as he wiped his face. "This cape is hot." 
The 53-year-old rocked a custom Sean John suit and cape couture set, on which he collaborated with June Ambrose. The Met Gala honored the late Karl Lagerfeld in the night's theme, "A Line of Beauty."
The "Act Up" MC made her first-ever Met appearance wearing a sheer black mermaid-style silhouette paired with pearls and a black fan-out fur accessory.
Caresha recently shared her own "no titles" sentiment about Diddy in her cover story for The Cut, saying, "We had our own situation, I'm not gonna put a title on it. We were fucking with each other hard. We were together every day at one point. He supported me, I supported him. I'll let the internet call it whatever they want to call it."