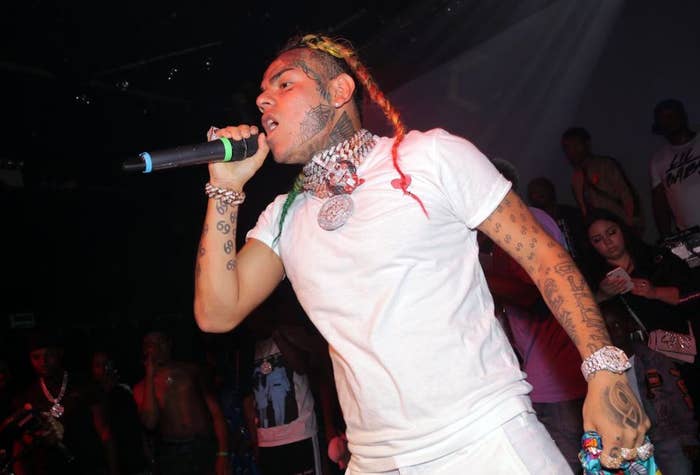 Daniel "Tekashi 6ix9ine" Hernandez received an early release from prison due to the Coronavirus pandemic, serving out the final four months of his 24-month sentence at home. However, his codefendants are not proving to be so lucky. Late last week, Faheem "Crippy" Walter had his attempt at early release shut down by Judge Paul Engelmayer, making him the third of the case's defendants to be denied, after Denard "Drama" Butler and Roland "Ro Murda" Martin. (Another one, Kintea "Kooda B" McKenzie, falls into a bit of a legal gray area—he was released, but only for a few months, until his sentencing in June.) 
Walter was, according to the government, the "right-hand man" of 6ix9ine's former manager Kifano "Shotti" Jordan. Walter took part in several violent crimes, including an April 2018 armed robbery in Midtown Manhattan that 6ix9ine videotaped from a nearby car. Walter also took part, along with Jordan, in an October 2018 incident at Manhattan's Philippe Chow restaurant. Jordan, Walter, and another man named Zachary Bunce attempted to enter the restauarant, where 6ix9ine was having dinner with his label head Elliot Grainge. They were denied entry, and a fight broke out between Jordan's crew and Grainge's security. During the incident, Walter was shot in the abdomen, and the injuries subsequently left him with a colostomy bag. In August of 2019, he was sentenced to 62 months in prison.
The effects of the shooting led Walter's lawyer, Edward Sapone, to petition for his client's early release. He wrote a letter to Judge Engelmayer on April 14, asking for Walter to serve the rest of his sentence at home.
"Despite exceeding the recommended time for use of the colostomy bag at the time of his sentencing eight months ago, Mr. Walter has still heard nothing about next steps from the BOP [Bureau of Prisons] medical staff about removal of the colostomy," Sapone wrote. "In the meantime, he has remained at MCC New York, where, because of the colostomy, he continues to face an increased risk of infection and of serious medical complications."
MCC New York, the Manhattan prison where Walter is being held, currently has five prisoners who have tested positive for Coronavirus, and 750 inmates are quarantined. In addition, the president of the facility's union local told the New York Daily News that 36 staffers have the virus.
Despite those conditions, Judge Engelmayer decided on Thursday that Walter should remain behind bars for the remainer of his sentence. While acknowledging that "COVID-19 may present a heightened risk" for Walter  "insofar as he continues to suffer the effects" of the Philippe Chow shooting, the judge said that "Walter's release some 45 months early would expose the community to a risk that he would resume violence."
Walter's attorney Edward Sapone gave Complex his take on the decision.
"The coronavirus pandemic is not a silver bullet for inmates to be released on masse," he said. "Instead, district court judges are hearing applications and returning to the traditional two-part test: danger and risk of flight. It's obvious that Judge Engelmayer was very thoughtful in his analysis. While Mr. Walter has health issues, the case presented too much violence to justify Mr. Walter's release at this time. I of course hope that Mr. Walter's health does not decline. But if it should, I will immediately return to court with an emergency application for his release."
For more about Tekashi 6ix9ine, check out the Complex/Spotify podcast 'Infamous: The Tekashi 6ix9ine Story,' narrated by Angie Martinez.