Behind the Robbery That Brought Down 6ix9ine and Nine Trey
A detailed account of the robbery that brought down the Nine Trey Gangsta Bloods and Tekashi 6ix9ine, based on witnesses, trial testimony & more.
Complex Original
Image via Complex Original
---
In the spring of 2018, Tekashi 6ix9ine's trip to Texas turned into a total shitshow. He was about to headline the unofficial WorldStarHipHop showcase during South by Southwest—and make good money while doing it. But instead, he had angry members of his crew staring him down from the audience, and about 50 guys standing onstage, ready to take his head off the second he showed his face. 
Wild, dangerous scenes like this weren't new territory for the young rapper. Since 6ix9ine released his breakout hit, "Gummo," the previous October, his career had been a series of provocations, stunts, and online trolls—and he'd ridden the wave all the way to the top. Every song he'd released since "Gummo" hit the Billboard Hot 100. His videos had accumulated hundreds of millions of views, he had millions of Instagram followers, and he'd already survived controversy involving him, a 13-year-old girl, and Instagram videos, which had threatened to end his career right as he was starting to break out. 
He seemed invincible, especially since he had the support of the Nine Trey Gangsta Bloods and the gang's "big homie," Kifano "Shotti" Jordan. But that invincibility didn't follow 6ix9ine to Texas when he headed there in March 2018 to perform at a few events around SXSW. 
He'd gotten into it with J. Prince Jr., son of the legendary and feared founder of Rap-A-Lot Records. Prince Jr. and his brother Baby Jay had denied 6ix9ine and Shotti entry to a party they were throwing. They were upset that 6ix9ine didn't bother to "check in" with them or their powerful dad. But the rapper, despite knowing how important checking in was, didn't check in for anybody, anywhere.
6ix9ine being turned away from the party made headlines, because J. Prince Jr. recounted the whole thing on Instagram and included video evidence. That angered one of the members of Nine Trey. Anthony "Harv" Ellison already didn't like Shotti—6ix9ine's closest associate and his protector in the gang. According to text messages, which would later become evidence in court, it was clear Harv thought Shotti was a loudmouth who didn't back up his tough talk with action. And Harv was suspicious of this rainbow-haired kid acting like a gangster. 
In a group text four days after the party, everyone talked it out. The group included Harv, 6ix9ine, and Shotti. There was also Seqo Billy, who had introduced 6ix9ine to everyone in the first place. There were 6ix9ine's buddies Trife Drew and William Asher, who everyone called Justin. There was Billy Ado, another Nine Trey member who was becoming disenchanted. And there was 6ix9ine's manager Chris Ehigiator, who was lifelong friends with Seqo.
"Niggas got violated in Houston?" Chris jokingly texted to the crew.
"Na," 6ix9ine responded. "We went to this party and niggas asked us to leave because we didn't check in wit j prince."
Harv wasn't in the mood to joke around about this, and he found an opportunity to insult Shotti. "Why didn't niggas shake no barricades and scream they the mafia," he asked, a reference to Shotti's often belligerent behavior at strip clubs in NYC. 
"They didn't do nothin tho," 6ix9ine continued. He didn't see why Harv was so worked up. 
But to Harv, it was a matter of pride. "Gangsters don't pick and choose there [sic] beef," he wrote. "Same way you are at [Club] lust should be the same way you are everywhere."
"Then you woulda been [on] worldstar with mad knots on ya forehead," 6ix9ine hit back. 
Harv wasn't impressed by this logic. "You sound pussy," he wrote. "Knots. I have bullet wholes [sic] in me. Nigga said knots." 
As the text conversation went on, 6ix9ine got more defensive, and Harv got more threatening. "That's what stop niggas from being the mob is knots," Harv wrote. 
6ix9ine was overwhelmed. "I thought I had to deal with this shit on the internet," he wrote. "Not wit my niggas."
"This not your life you wouldn't understand," Harv wrote to 6ix9ine.
"He's not the image that they all portray him to be. He's very timid. He's very calm. He wants to learn, and he asks a lot of questions." - Bizz-E Blaze
6ix9ine didn't get one simple rule of the street. When you get violated, there's no time for talking. Just action. Nine Trey members are known for not putting up with disrespect from anyone, no matter the circumstances. 
Harv texted 6ix9ine that if he was in jail with a bunch of Crips, he would say he was a Crip, too. It was the biggest insult he could think of, and he followed it up by calling both 6ix9ine and Shotti "pussy." 
"This some beef between you and Shotty and ya using me to voice that," 6ix9ine responded, suspecting that Harv wasn't really mad at him, but was just using the whole Houston thing as a pretext because he didn't like Shotti. "That shit wack." 
Harv was still fixated on 6ix9ine's excuses. "Nigga said knots." 
And then, the exchange that shattered everything. 
The group went back and forth on who was really keeping 6ix9ine safe. Finally Harv, fed up, said, "We not your goons." 6ix9ine tried to finally make peace. "I respect it," he returned. 
"Respect this dick," Harv replied. 
Looking back through publicly available evidence—court testimony, intercepted text messages, recorded conversations, and all of the violence that happened afterwards—it's now clear that this is the moment where relationships were irreparably broken. 
Harv and Ado, enraged, headed to Austin the next day to meet 6ix9ine. When Harv arrived, he called Justin and threatened him. 6ix9ine was upset. He knew they were mad at Shotti, but why take it out on him, Trife, and Justin?
"You literally told me on your own to respect ya dick and that I'm [p]ussy," he texted. "U tranna play mind games with me. Tranna scare my friends." 
Harv didn't seem to think what he had done was all that serious. He even wanted 6ix9ine to book hotel rooms for him and Ado. A last-minute offer to do just that didn't appease him. Now, he was mad. "Niggas came here to go to the show," Harv wrote. "You really violated." And it was Harv and Ado's intention to violate right back. "Harv and Billy Ado and his cousin was right in front of the venue," 6ix9ine later testified, explaining that he was desperate to avoid them. On the flight back that night, Harv made a video saying, simply, "I want the smoke."  
Harv and Billy Ado were far from the only people at the show in Austin with a mission to straighten 6ix9ine out. J. Prince Jr. showed up with 50 goons in tow and barricaded the stage. Shotti wasn't around. It was just 6ix9ine, Trife Drew, and Justin. There was no way 6ix9ine was going to perform. He was out $10,000 in back end show pay, but there was nothing he could do. 
J. Prince Jr. took to social media to gloat. "Niggas talk a lot of shit, but won't even show up to they own show," he taunted. "Goddamn, you don't want your back end, nigga?" 
"I got a question to ask everybody," Prince Jr. continued. "Where 6ix9ine at? He ain't show up to his show." 
At the gig, with tensions soaring, 6ix9ine got on the phone. He was upset. Chris gave his usual answer: "It's your thing. You can fire whoever you want to fire." Fine. As Chris remembers it, 6ix9ine handed the phone to the guy from WorldStar who was putting together the show. 
"Danny said he don't even want you here," the WorldStar employee said to Chris.
6ix9ine didn't want to keep someone around who was trying to teach him lessons. He believed he had everything he needed. He had Shotti.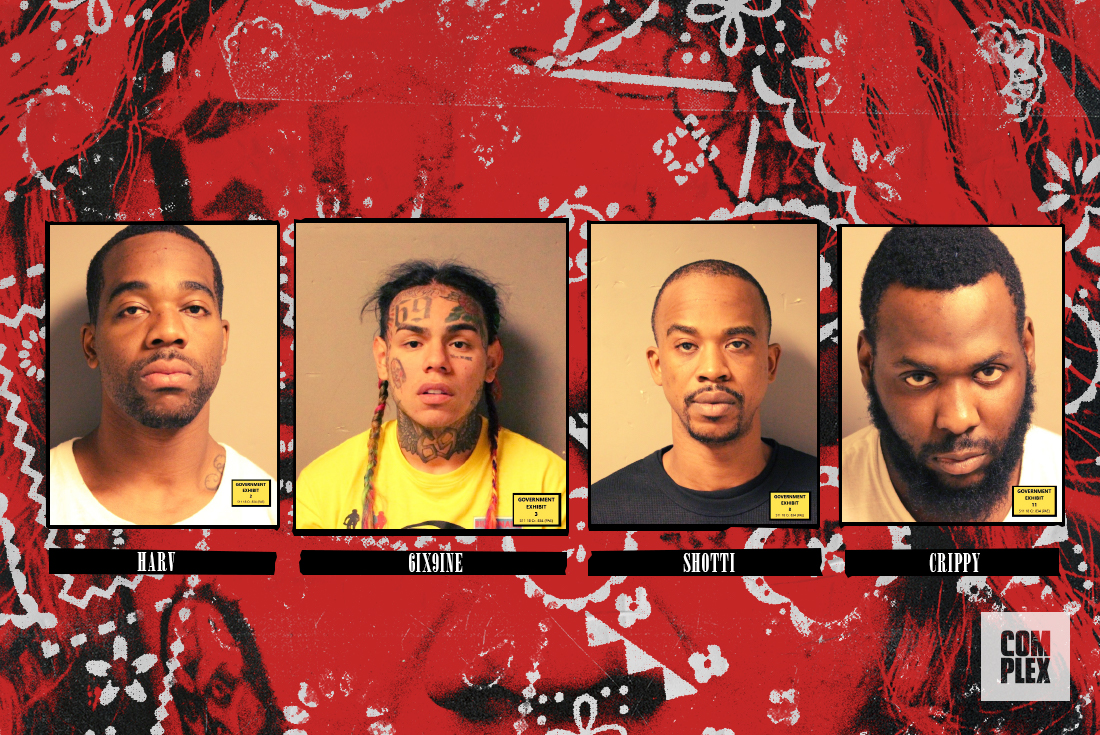 Just a few weeks later, Dallas rapper Junya Boy, who was close with people at Rap-A-Lot, was doing press in New York. His publicist Skyy Lyfe was a veteran. She knew everyone. So she used her contacts to set up an interview at 50 Cent's website, This Is 50, on April 3. And the perfect person was going to join them.
Scumlord D!zzy met 6ix9ine well before the fame. They first connected when D!zzy found out that a bunch of Bushwick kids were calling themselves "Scumgang." He took exception because Scumgang was his thing—his friends, his crew. It started back in 2007, when these Bushwick kids were still in middle school. Scumgang wasn't a gang, even though some of them were Crips. 
And most importantly, they weren't from Bushwick. 
"It's mainly a lot of us from Flatbush," D!zzy explains now. "Most of us is in that area."
But when D!zzy's man Bizz-E Blaze sat down with these Bushwick kids over Chinese food, they turned out to be OK. Especially 6ix9ine, who everyone called Danny. He looked crazy, sure. But Bizz-E met someone very different than the public knows now.
"He's not the image that they all portray him to be," Bizz-E tells Complex. "He's very timid. He's very calm. He wants to learn, and he asks a lot of questions. He's not boasting and bragging about nothing. He was quiet. Respectful. And he asked a whole lot of questions."
Things had changed since they first met. 6ix9ine left both Scumgangs behind to join the Bloods. To D!zzy, that was crazy. Not all that long ago, both D!zzy and Bizz-E remember, 6ix9ine had wanted to use D!zzy's connections to make a video repping the Crips. He even brought props to the shoot. 
"He came to the studio with like a bag of bandanas," D!zzy recalls now. "I'm like, 'Yo, bro, listen. You've got a whole gang of Scums here. You've got enough people here to be ganged out in a video, you feel me? But you're not Crip. So I'm not about to have a bunch of Crips in your video.'"
To those around him at the time, 6ix9ine seemed so fascinated with gangs that he would go to any one that would have him. And he found one in Nine Trey.
At the time of the interview with This Is 50, D!zzy and 6ix9ine's relationship had recently turned ugly. 6ix9ine was going around in interviews calling himself the founder of Scumgang. There was the interview with DJ Whoo Kid right when he was starting to blow up. And when 6ix9ine sat down with Fat Joe, he called Scumgang "my shit." Just about a week before, 6ix9ine had gone on The Breakfast Club and antagonized them, referring to Scumgang as "some group." 
So D!zzy saw he had a chance to tell the truth about Danny to everyone, on 50 Cent's station, alongside one of J Prince's artists, after what happened in Texas. That was too good to pass up.
As D!zzy walked to This Is 50, he was hyped. He'd been in the studio all night, planning what he was going to say. He taped himself talking about it on the way. 
"Rap-A-Lot, what's good?" he said into his phone. "J. Prince, what's good? We cleaning this shit up. We about to go to This Is 50 right now. We about to shake shit up in the city. I was lining everything up. Now it's time to let niggas know what campaign we on. We on that get-our-throne-in-order campaign."
He took a verbal shot at 6ix9ine during the pre-interview Instagram rant. The rapper had lately been calling himself the King of New York. "I let the nigga run around saying king, because I was taking care of real king shit."
At one point, D!zzy showed off his backpack. It had "SCUM" on it. "Ay yo, my bag is waterproof," he said, bending down so the camera could catch it. "Scumbag waterproof. The money don't get wet."
They all went inside. During the interview, Junya Boy talked about how disrespectful it was for 6ix9ine to come to Houston and dishonor J. Prince. D!zzy talked Scumgang. 
Looking back a little over a year later, D!zzy recalls his main goal for the sit-down.
"Bringing and shedding light to who he really is," he tells Complex. "Because people actually started believing that this kid is really about this lifestyle." 
But the interview would never air.
The ties between 6ix9ine and 50 Cent's crew ran deep. 6ix9ine's tour DJ, Pvnch, was an on-camera personality there. Shotti's good friend Faheem "Crippy" Walter, who had been working his way into 6ix9ine's inner circle for a while and was now his day-to-day security (replacing Harv) was brothers with Monsta, 50's longtime security guard. Crippy had even been onstage during the infamous fight between 50 and Slowbucks at Summer Jam in 2014.
Of course, there were plenty of other ties beyond Crippy. Most importantly, 50 had publicly taken a liking to 6ix9ine. After all, 50 famously got his start trolling everyone in the music industry as well, with his famous song "How to Rob." ("I'll snatch Kim [Porter] and tell Puff, 'You wanna see her again?/Dance your ass down to the nearest ATM.'") The kinship was an obvious one. 
So when a couple guys started talking shit about 6ix9ine, right in 50's office, with Rap-A-Lot involved, Crippy got word quickly. Shotti and 6ix9ine were at 6ix9ine's place on Kingston Avenue in Brooklyn. Crippy called Shotti and told him that a guy from Rap-A-Lot was over at This Is 50. This was who embarrassed them in Texas, and retribution was needed.
In September 2019, 6ix9ine recalled the whole thing from the witness stand. Shotti told him to get dressed and they drove over to Crippy's, with 6ix9ine's regular driver Jorge Rivera behind the wheel. A second car full of people met them there, and they went inside and planned out the robbery. These additional people were Nine Trey guys who were still loyal to Shotti. There was Drama and Ish. There was Crippy, of course. There was Jesnel "Ish" Butler. And there was Ro.
Roland "Ro Murda" Martin had just ended a nine-year prison stint. On getting out, he was the Godfather—the highest rank—of 6ix9ine and Shotti's section, or "lineup," of Nine Trey. They called it the "Murderville line." He was still on probation, a reason he left early the day 6ix9ine and Shotti got into it with Trippie Redd and his man Frenchie BSM. That day, March 20, just a few days after the mess in Austin, ended with Shotti firing into Frenchie's car outside Quad Studios. Amazingly, no one was hurt, but no curfew violation was in effect now. It was late afternoon.
They all waited in front of the building. The call came in: "They coming downstairs right now."
Shotti loaded his gun.
264 West 40th Street, where all of this went down, is in Midtown Manhattan, near Times Square. There couldn't be a more public place to rob somebody, especially at a few minutes before 5 p.m. So when a group of men with guns entered the lobby, it would have been difficult not to notice. 
Shotti, Ro, Drama, and Crippy all ran into the lobby from outside as Junya Boy, Skyy, and D!zzy entered from inside. Jorge stayed behind the wheel of one car, Ish the other. But 6ix9ine knew that they couldn't just rob "this Rap-A-Lot guy," whose name 6ix9ine still didn't know nearly a year and a half later as he recounted the story in open court. They needed to show everyone that they robbed him. And that part was his job.

6ix9ine recalled staying in the car while everything went down. He moved up one row of seats, from the back to the middle, so he could get a better view. He started filming, but it was wet. The raindrops on the car window were blocking his view. So he opened the door of the car and continued filming. A bunch of guys with guns walked into the lobby and started screaming and cursing.
Skyy saw them, and they saw her. "Bitch, get on the ground!" they yelled. All of a sudden, guns were pointing at her from all directions.
"I thought I was going to die," she says now. "I thought this was the end of my life. I thought I was never going to see my children again. I thought that it was over."
Suddenly, an older man opened the door and Skyy ran out. She got in her car, frantic, and headed to the airport, eager to flee the scene. 
None of the guys bothered to wear masks. The whole point was for "the Rap-A-Lot guy," and by extension J Princes senior and junior, to know who robbed them. And for everyone else to know it, too. They also got someone's chain. Skyy lost hard drives that had client information and an in-progress memoir.
"I thought I was going to die. I thought I was never going to see my children again." - Skyy Lyfe
D!zzy knew from the second they came in that no one was getting hurt. If these guys had guns but weren't using them, they were just for show. The guys had no idea 6ix9ine's old friend D!zzy was going to be there. Regardless, they took his waterproof backpack. It had his ID in it. He was upset, since he needed to catch a flight. So he talked back, argued some, and started pushing. 
The bag was an awkward, unintended trophy. No one really wanted to do anything with it. They kept it in 6ix9ine's house—in his closet—for months afterwards. 
"I felt like he was holding it because he was going to give that shit back," D!zzy insists now. 
The strangest thing about the robbery is, as everything was going down, it looked like nothing more than a slightly heated argument from the outside, as you can see in both the footage 6ix9ine shot and the building surveillance footage showed in court. In the middle of it all, someone actually walked up to the building and opened the door, blithely unaware that he was about to stumble into the middle of an armed robbery.
After the robbery, Crippy and Shotti got back in the car with 6ix9ine and Jorge. They started driving away. There was one problem, though. They were in Midtown. At rush hour. 
The car got all of 20 feet before they hit a red light. And then: sirens.
"Nah, I ain't going to jail today, Blood," 6ix9ine remembers Shotti muttering. Despite his high profile, Kifano Jordan was still a wanted man, on the run from the law. He'd skipped out on court in Jersey after he'd been pulled over in May 2016 with drugs and a machete. Running from the cops hadn't helped things. Nor had the fact that when he told a woman, Neja, who was in the car with him to hide the drugs in her vagina, she went and told the cops about it. He'd been made the Fugitive of the Week for that. So after he'd gotten through all that, and made it to the pinnacle of the music business while still technically on the lam, being caught seconds after committing an armed robbery was likely not part of the master plan. 
Jorge tried to calm Shotti down. "We're not going to jail. We're fine. You're paranoid. Relax." 
"I ain't going to jail," Shotti said again. He needed to get rid of his gun. It was the only way out of this mess. So he threw the gun on 6ix9ine's lap.
"Yo, Bix, get the fuck out of the car." They always called him Bix. It was "Six" but with an initial "b" sound—for "Blood"—replacing the "s." 
6ix9ine tried to talk sense into Shotti. He was a famous, recognizable public figure at this point. There was no way he was walking around Times Square with a loaded gun. 
Shotti wasn't hearing it. "Bix, get the fuck out of the car."
Defeated, 6ix9ine stuck the gun in the hoodie he was wearing and hopped out. He decided to get on the train to get back to Brooklyn. Then he realized how risky that was, and left the station. All of a sudden, he saw Crippy across the street. 
"Shotti's buggin' back there," Crippy said. "Come on. We're gonna go home." 
They tried to get a cab, but no dice. Finally, they went back to 6ix9ine's original plan: the subway. There was one issue, though. The famous rapper still had Shotti's gun. 
"Get chest to chest with me," Crippy said. So they stood facing each other, hoodie to hoodie. 6ix9ine passed the gun to Crippy. 
"Go buy us a Metrocard and swipe us home," Crippy added. "Keep your head down and pull the strings on your hoodie." 
They got on the A train. Miraculously, no one recognized the rapper with two of the top 100 songs in the country at the moment, and they got to the Fulton Street station with no problems. From there, it was about a 15-minute walk to Crippy's place.
Somehow, they survived it without getting caught. So, now what to do? 6ix9ine had become close with DJ Akademiks, the media personality who had a reputation for getting the latest rap news first. Ak, one of the hosts of Complex's Everyday Struggle, had even brought 6ix9ine into the Complex office earlier that year, attempting to introduce him to writers and filming a behind-the-scenes video. 6ix9ine sent the footage of the robbery to Akademiks. Ak posted it immediately. 
"Allegedly this is footage of a 'Rap A Lot' artist being robbed today in New York while headed to a interview w/ thisis50," he wrote. Soon, the footage was passed around the internet, with Ak's Instagram handle running through the middle of the screen.
The video went viral. It showed up on YouTube with titles like "6ix9nine goons allegedly rob rap a lot affiliate" and "Footage Of 6ix9ines Crew Robbing J Prince Rap Alot Artiste In New York." That was exactly what 6ix9ine wanted.
In the weeks after the robbery, Skyy's life fell apart. Her job had been her life, and now it was over.
"For the first time in my life, I didn't want to do it anymore," she remembers now. "He not only took my personal belongings, he took my career." 
She gets teary at the memory. "He took my life that I once knew. And he left me with fear. He left me with anxiety. He left me in debt because clients start pulling out back and forth. No one wants to be involved with the woman who's so high-controversy where she's getting guns pulled on her in New York."
By January, she quit the music business and moved to L.A. to become a comedian. 
That wouldn't be the only effect, though. In late September, while 6ix9ine was in Dubai, federal agents and the NYPD raided his house. What did they find? D!zzy's backpack. That accidental trophy would help the police cement their case against Nine Trey. When it all came crashing down less than two months later, the robbery would be Counts 3, 4, and 5 of the indictment against Shotti, Ish, Crippy, and 6ix9ine. 
In the end, they would all plead guilty. Ish got 60 months in prison. Crippy, 62. Shotti got 60 months for the robbery, and another 120 months for a shooting a few weeks later. For 6ix9ine, who pleaded guilty to nine counts, that robbery was numbers 5 and 6. 
Harv's anger at 6ix9ine and Shotti grew for months after the fiasco of the Texas trip. It culminated on the night of July 22, 2018, when Harv and a friend kidnapped, assaulted, and robbed 6ix9ine. But the over $300,000 in jewelry they got, while nice, wasn't the point. Instead, they wanted to prove to everyone that 6ix9ine wasn't really a gangster.
"Billy" was slang for being a member of Nine Trey. 6ix9ine added it to his vocabulary after meeting Seqo, even using it in the lyrics to "Gummo." Some guys, like Seqo Billy and Billy Ado, adopted it into their names. So as his friend was punching 6ix9ine in the back of the head, Harv used his phone to record the incident. They told him to repeat a sentence on camera. Harv wanted to show the world that the rainbow-haired rapper was a fraud. There was only one thing they wanted to hear 6ix9ine proclaim.
"Say you not Billy." 
He did.
In the aftermath of the kidnapping, everything got even more tense. The next day, Shotti and 6ix9ine went into damage control mode. They called Pvnch and asked him to interview them right outside of 6ix9ine's childhood home in Bushwick, whose address he'd tauntingly shouted out in previous interviews. They wanted to set the narrative. 6ix9ine was "good, strong, healthy." He was back from a sold-out world tour. He was outside, still in public, still in the streets.
And the kidnapping? 6ix9ine had temporarily "lost touch with reality," he explained to the camera. He was a superstar now, after all. He thought he could walk around in the hood like he used to. And he "slipped up." He acknowledged on camera: "There's no more being regular." 
6ix9ine did his best to humanize himself. He talked about being in the back of the car with his kidnappers, pleading to see his daughter again. He mentioned thinking about XXXTentacion's then-recent murder. He was alternately reflective and boastful. While the details he gave were accurate, he said nothing about who was responsible. True to form, he was entirely focused on how "Fefe," his Nicki Minaj collab that had just been released, was performing online. He even checked its YouTube view count in the middle of the interview. 
Shotti appeared lighthearted, joking about his love for Nicki and relishing the fact that "Treyway" had become the hottest catchphrase of the year. He even tried to make light of the previous day's kidnapping:  "Shoutout to y'all for borrowing his jewelry. He need a new look, anyway." 
But behind the scenes, things weren't quite so happy. A few days later, Shotti, Crippy, 6ix9ine, and Jorge were together in Jorge's car. Shotti unloaded on his star artist with a nearly 20-minute harangue. He was unaware that by that time, Jorge was cooperating with the government, and his every word was being recorded and would be turned over to the ADA.
"You can't put us in situations where we gon' be at risk, nigga," he bellowed. "Especially when we got hella beef with these niggas that we ain't drop. Nigga still got your jewelry, bro."
Shotti was upset that 6ix9ine was still moving around like he wasn't famous. And now it had backfired, severely. 
"Yo, we really gotta know what we're doing to move correctly, scrap," Shotti said. "And keep your name fucking lit. And the way to do that is not being in the fucking neighborhood where you could get touched." 
The pressure was on Shotti to retaliate, and he was not happy about it. "It's gonna be a shoot-out, bro. And we gotta kill somebody." 
He knew how violent Harv was, even before this.
"I ride around with a fucking semi-automatic assault rifle, bro," Shotti explained. "Harv, I taught him that."
He laid it out as plainly as he could. "Harv put his hands on you. You know Harv, I know Harv. He been trying to intimidate you from day one. Now, what the fuck you gonna do about it?"
Shotti knew what he was gonna do about it. Even before the kidnapping, Shotti was already trying to make Smurf Village, the housing project where Harv lived, hot. A week before Harv kidnapped 6ix9ine, Shotti directed a crew of his guys to go into Smurf Village with guns blazing after he saw Billy Ado out there on Instagram Live, shooting a music video. But they missed Ado, and hit a woman in the foot. Now, Shotti was determined to raise the temperature even higher. 
By October, the Nine Trey members in prison—the ones who called the shots—had given Shotti carte blanche to go to war in Smurf Village. Shotti's man Gunz was determined to do his part. On October 24, Gunz took Shotti's black Benz and went with his friend Pablo to Smurf Village, intending to shoot Harv. Instead, he hit one of Harv's friends, paralyzing him. Harv, enraged and seeking revenge, slashed a young guy named Mark who he knew was close to Gunz, sending him to the hospital. 
Just two days after that, Shotti and Crippy, along with an ex-boxer named Zachary Bunce, would attempt to muscle their way into a meeting between 6ix9ine and his label head Elliot Grainge. Grainge's security, some off-duty NYPD officers, weren't about to let that happen. Crippy ended up shot and hospitalized, and Shotti and Bunce were arrested. 
That incident marked the beginning of the end. Just weeks later, 6ix9ine would publicly disavow Nine Trey, first on Instagram, and then a day later on The Breakfast Club in front of millions. And right after that, the NYPD, Homeland Security, and the FBI would culminate their five-year investigation into the Nine Trey Gangsta Bloods by arresting 6ix9ine, Shotti, Crippy, and Ish, along with Shotti's OG Mel Murda and the gang's shooter Fu Banger. Harv, who was already behind bars and charged with 6ix9ine's kidnapping, would be added to their case in January. He would ultimately be found guilty of the kidnapping (despite his protestations that 6ix9ine set it all up for public sympathy) and of Mark's slashing. 
With his arrest, 6ix9ine's dramatic run to the top of rap was over. He faced decades, if not life, behind bars—unless he did something drastic. 
It took him one day to decide to cooperate.