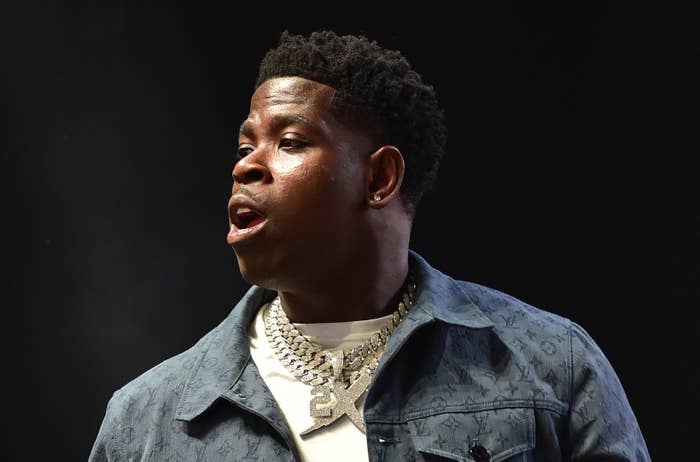 The inaugural edition of Rolling Loud New York made headlines for reasons far more serious than Travis Scott's knees: Five hometown artists (Casanova, Sheff G, Don Q, 22Gz, and Pop Smoke) were dropped from the bill due to pressure from the New York Police Department. 
A letter signed by Assistant Chief Martin Morales of Queens North claimed that the performers had been "affiliated with acts of violence citywide." Rolling Loud co-founder Tariq Cherif said on Twitter that the letter was more than a mere suggestion to cancel performances: "If we want RL to return to NYC, we have no choice but to comply." 
"I was disappointed to learn that I can't perform at Rolling Loud in my own hometown," Sheff G tells Complex. "I'm earning a living and feeding my family through music. My music reflects my past and how I've been changing my life for the better."
22Gz adds, "I've been out of the system for a while and still wasn't able to perform at Rolling Loud. All of the artists that got banned have put our pain in the booth and in our music. I wasn't convicted of my charges and I've steered clear of any trouble since then."
In the aftermath of the festival's decision to accede to police pressure, eyes are once again turned to the relationship between the NYPD and hip-hop. This past May, the New York Post reported on the inner workings of the department's so-called "Rap Unit" (technically the Enterprise Operations Unit). The primary focus of the unit, the Post explains, is to "draw up weekly entertainment reports about scheduled hip-hop shows at city clubs, and designate each as posing a low, medium, or high risk for violence or other crimes." 
"If you're going to do it at Rolling Loud, what's to stop them from saying the same thing at a venue in the city that is much smaller?" - Attorney Kenneth J. Montgomery
While the Enterprise Operations Unit is not mentioned in Morales' letter, and attempts by Complex to speak with Morales and the NYPD about its involvement in the Rolling Loud situation have not received responses, the letter matches the Enterprise Operations Unit's way of doing things. And it's a way of operating that bothers some legal experts. 
Kenneth J. Montgomery is an attorney who has represented Bobby Shmurda, Mr. MFN eXquire, Tyson Beckford, the late Sean Price, and more. He questions whether the NYPD's letter infringes on the artists' First Amendment rights.
"If I was a constitutional lawyer, I would certainly be interested in sitting down with all of them," he tells Complex. To Montgomery, the letter is an attempt to punish rappers for things they haven't even done yet, and may never actually do. "That doesn't sound too democratic to me," he says. "You're criminalizing the potentiality of crime. You're not criminalizing crime. If these people are who you're saying they are, where's the indictment?"
The fallout from the NYPD's letter seems to be continuing. As recently as the day before Rolling Loud, Casanova tweeted tour dates that included a December stop at S.O.B's in Manhattan. Now, that concert does not appear on the venue's calendar. It's listed as "postponed until further notice" on secondary ticket sale sites.
A Pop Smoke show at Sony Hall, still listed as occurring in February 2020 on Ticketmaster, is now "postponed" on the venue's website. 
While attempts to reach out to both venues to obtain more information were not successful as of press time, sources tell Complex that both shows were canceled in relation to the NYPD's letter. A source familiar with the cancelations says the venues were not contacted directly by the NYPD. Instead, they were responding to the climate.
"In this situation, I think it was just the writing on the wall," the source tells Complex. "They saw the [NYPD] letter in The New York Times and that was enough just to say, 'This is not working for us to do.'"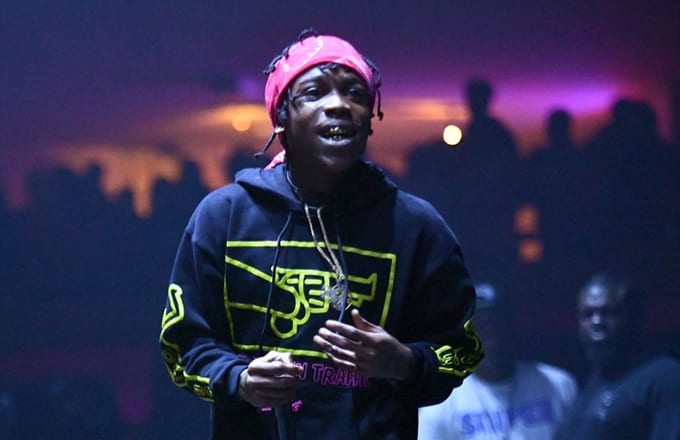 Montgomery points out that this is exactly the type of fallout that is to be expected from something like the NYPD's letter. "If you're going to do it at Rolling Loud, what's to stop them from saying the same thing at a venue in the city that is much smaller?" he points out. "They're basically saying, 'You guys are not going to be able to perform in this city if we can help it.'"
Even if those artists do have gang ties or associations with violence, Montgomery says, that would hardly make them unique in the music industry.
"Are they saying that these are the first guys in the music business who were associated with seedy characters?" the attorney asks rhetorically. "There was a guy by the name of Frank Sinatra. There were other guys who were rolling with gangsters, mobsters. I've never heard of [the police] saying they're shutting down their show."
"I have no convictions and no longer get into trouble. I know that the NYPD's opinion of me will change once they learn more about me." - 22Gz
An NYPD spokesperson explained the Rap Unit's rationale to the New York Post: "The Enterprise Operations Unit focuses on venues or entertainers that have been connected with past acts of violence—regardless of musical genre. The primary goal of EOU is to anticipate, based on past incidents, where there is a significant likelihood of violence, and to take steps to prevent people from being hurt, or worse."
Police awareness of rap shows has increased in recent years, Alex Damashek of Move Forward Music, a New York area hip-hop promoter, tells Complex.
"Within [a few years], you had the Bobby Shmurda bust and the Troy Ave incident at Irving Plaza. Since then, I think they've been a lot more vigilant about what's been going on, and letting venues know when they have a concern."
No one—concert promoter, artist, police, or otherwise—wants a repeat of the Irving Plaza incident, which ended with Troy Ave's bodyguard dead and Taxstone in jail. But people in the New York City hip-hop community—fans, businesspeople, media, and performers alike—need to stay aware and make sure that efforts to police the community don't continue to turn into efforts to suppress it and prevent artists from earning a living.
"I just wanna live," Casanova wrote on Instagram this weekend, sharing the news that his Rolling Loud set had been canceled. "My last felony conviction was 2007. I lost everything I ever loved and I'm still losing. It's unfair and unfortunate that my past, which I've dealt with legally and personally, continues to stigmatize me and my career as a recording artist."
"I definitely won't let this stop me from doing what I do," 22Gz says. "To everybody who was let down and who bought a ticket to see us, I'm sorry. Next Rolling Loud we litty."
Sheff G tells Complex, "Hopefully through sharing these experiences it will convince kids in similar situations to not pursue that type of lifestyle. Despite this setback, I'm not going to give up and still move forward for my fans. I have no convictions and no longer get into trouble. I know that the NYPD's opinion of me will change once they learn more about me."
Additional reporting from Jay Salim.