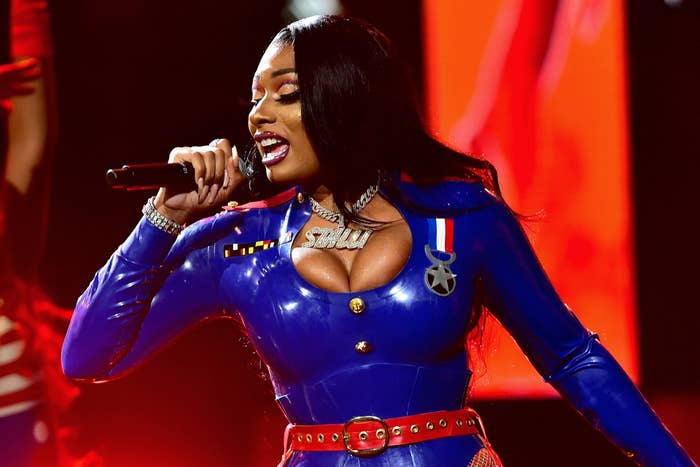 The back-and-forth between Megan Thee Stallion and her label 1501 Certified Entertainment has been the center of conversation over the past couple days. But what is really going on? Was Megan taken advantage of by a shady record company? Or is she attempting to rewrite history and leave her old partners in the dust now that she's a star? And what does J. Prince have to do with any of this? We went through the legal documents. Below, here's everything you need to know about this rapidly developing situation.
How did this public dispute begin?
On Sunday, March 1, Megan went on Instagram and said that her label wasn't allowing her to release new music.
She explained that after signing a management deal with Roc Nation in September 2019, she realized there were issues with her deal with 1501 and went to them to renegotiate. That's when, she said, "everything went left." As a result of the impasse, she claimed, 1501 was preventing her from dropping new music. 
What happened next?
The day after going live with her complaints, Megan filed a lawsuit against 1501 and its head, Carl Crawford. That same day, a judge signed a temporary restraining order, allowing Megan to drop music on Friday, March 6. 1501 has to allow the release, and also has to "refrain from threatening or posting any retaliatory social media posts or threats" against the rapper. 
What's the lawsuit about?
Megan is asking that her the judge throw out her contract with 1501. She accuses the label of lying about what services it would provide. She also says that the label wasn't even doing basic things like registering her songs with the copyright office. 
And then there's the money. The suit claims that the label gets 60% of the money she makes from her recordings, and that she has to pay the cost of making those recordings solely out of her share. On top of that, the label allegedly controls her touring and keeps 30% of the money from it, as well as 30% of her merch revenue. She says that she's never received a proper accounting from 1501, and has only been paid $15,000 total by them.
How much money are we talking about?
The lawsuit includes details about Megan's sales and streaming numbers as Exhibit 1. It lays out her total career sales of 918,963 album equivalent units—a number that includes over a billion streams when you combine Spotify and Apple Music. The exhibit estimates total earnings from that of over $7.3 million.
What does this have to do with J. Prince?
The lawsuit lays out the close relationship between Crawford and notorious Rap-a-lot Records head J. Prince. Megan's Roc Nation manager Geetanjali Grace Iyer made a declaration in the suit where she says this:
Around the time [Megan] signed with Roc Nation, Mr. Crawford associated himself with James Prince (known professionally as J. Prince). Mr. Prince announced at the time that he was now Mr. Crawford's "partner." I have [sic] aware that Mr. Prince is notorious in the music business for threats and intimidation towards artists and others, and has been referred to as one of the "most feared men in hip-hop.["] He has specifically made comments about Roc Nation's management of Megan, and threats related thereto.
Megan isn't the only person talking about threats from J. Prince. "Big Ole Freak" producer Lil Ju also made a declaration where he talks about Crawford using J. Prince's name and reputation to intimidate him into giving beats to 1501. 
Crawford said, "Don't ignore when J. Prince reaches out to you about those beats because he feels like you are ignoring him." He sent another message some weeks later where Crawford said I "would see him around."
I understood Crawford's message to be a threat… I fear J. Prince and those associated with him, and have heard what he is capable of; so I assume he would use intimidation against me if he does not secure what he wants.
The suit also mentions this Instagram post from Crawford, which shows him sitting next to Prince and has a caption about people who "double cross me." According to Iyer, the post refers to the Roc Nation deal and contains "threats." Megan also refers to the post as a "message/threat."
What does Megan's mugshot have to do with this?
Megan's team claims that Crawford and Prince leaked information about her 2015 arrest. They say that Megan's mugshot, which appeared on the internet suddenly in February 2018, "was clearly leaked by someone in the 1501 camp… There is simply nobody other than 1501, Mr. Crawford and Mr. Prince who had any incentive whatsoever to uncover and post it."
What does Carl Crawford have to say?
Crawford did an interview with Jay's Green Room, uploaded to YouTube on March 2, 2020,  where he spoke about Megan's situation in very broad and general terms. He talks about her "going rogue" and says, "I don't care how many Hotties get mad" at him over the situation. "Like they say, the good guy gets punished," he concludes.
He spoke to Billboard in an interview published Tuesday, and got a little more in-depth. In his telling, Megan started withholding money from him after signing to Roc Nation, in order to pressure him to renegotiate her contract. And that contract? He says it's "a great contract for a first-timer."
And, he says, he didn't even write that contract in the first place: "T. Farris is the one. Her mom did the contract. I'm new to the business. I let this guy T. Farris run my whole business, because I knew absolutely nothing about it. Zero. So he wrote your contract up. I didn't do it."
To Crawford, the lawsuit is part of a larger plan. "Their real plan was to get you out of my contract so they can sign you to Roc Nation. That's all they want to do," he says. He also disputes Megan's claim that she's only been paid $15,000 by the label. 
"How she been paid $15,000?" he responds. "As soon as we signed to 300, I wrote her a check for $50,000, and it's signed with her name on the check. We can show you the proof."
Speaking about the deal in general, he says, "We gave this girl a 60-40 split. Now go ask the artist about that. She got parts of her masters [the] first time. You think JAY-Z would have gave her part of her masters on her first deal with Roc Nation? Fuck no. Then, she's getting $100,000 a show and she don't want to pay up. That's what the issue was about. She signed with Roc Nation in August and decided she didn't wanna pay me no more."
Addressing J. Prince's involvement, Carl Crawford says, "[Roc Nation] wanna take advantage of me because I'm new to the business and don't know nothing. This is what Roc Nation do. They harp on the weak. I guarantee you if I didn't have J. Prince right now, I wouldn't even be able to talk to you, bro. Roc Nation would have already took this shit. This shit would have already been took from me. All my hard work would have went down the drain. I'm here to fight this."
What happens next?
For now, the restraining order allowing Megan to release music only lasts until March 16. But three days before that, on March 13, there will be a hearing to determine whether it gets extended or not.
But before all that, on Tuesday, Crawford filed an emergency motion to overturn the restraining order. Late Wednesday, a judge denied that motion, clearing the way for Megan to release new music. And Megan announced that her new album SUGA is coming on Friday, March 6.