Meek Mill May Face Almost 2 Years in Jail for Probation Violations
Meek Mill's legal troubles could come back to haunt him.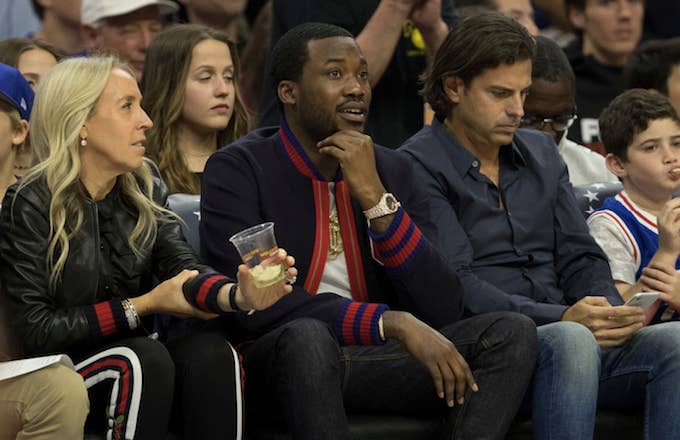 Getty
Musical artist Meek Mill watches the game between the Boston Celtics and Philadelphia 76ers at the Wells Fargo Center on October 20, 2017 in Philadelphia, Pennsylvania. The Celtics defeated the 76ers 102-92.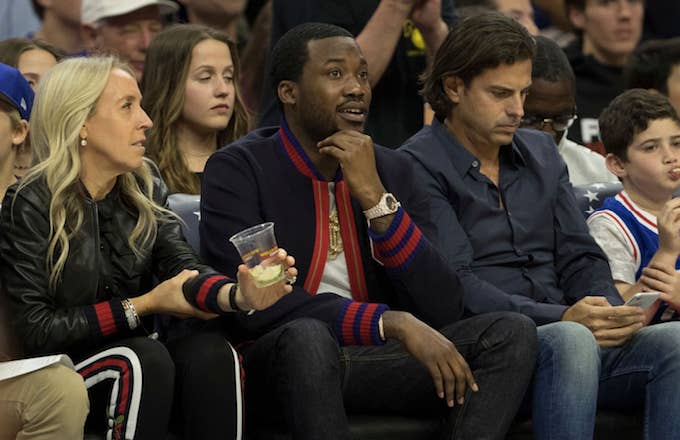 Meek Mill has made headlines a couple times in recent months for run-ins with the law. There was a fight at an airport in St. Louis in March, and some wild driving on a dirt bike in NYC in August. 
While charges from those two incidents have both been dismissed, the Philly rapper is facing additional complications from the arrests—pretty serious ones. TMZ reported on Thursday that Meek is headed to court on Monday to deal with probation violations resulting from the St. Louis and NYC cases. 
Meek is on probation in the first place because of a 2008 conviction on gun and drug charges. He served eight months for it, and was put on probation afterwards. Back in 2016, he was put on house arrest for 90 days for violating that probation. That time, it was for unapproved travel. During the legal maneuvering on that case, Meek received a six-year extension on his already-lengthy probation. 
The MMG rapper's most recent probation violations could land him in prison for somewhere in the neighborhood of 20 months, TMZ says. 
In more positive Meek news, he recently took a group of kids from the Boys & Girls Clubs of Philadelphia to see the Sixers play.
Afterwards, the kids met with the team's stars Joel Embiid and Justin Anderson.