6ix9ine Is Out of Prison. What Now?
Daniel "Tekashi 6ix9ine" Hernandez is now out of prison and in home confinement. But what does that mean? How will this work? We looked through the documents.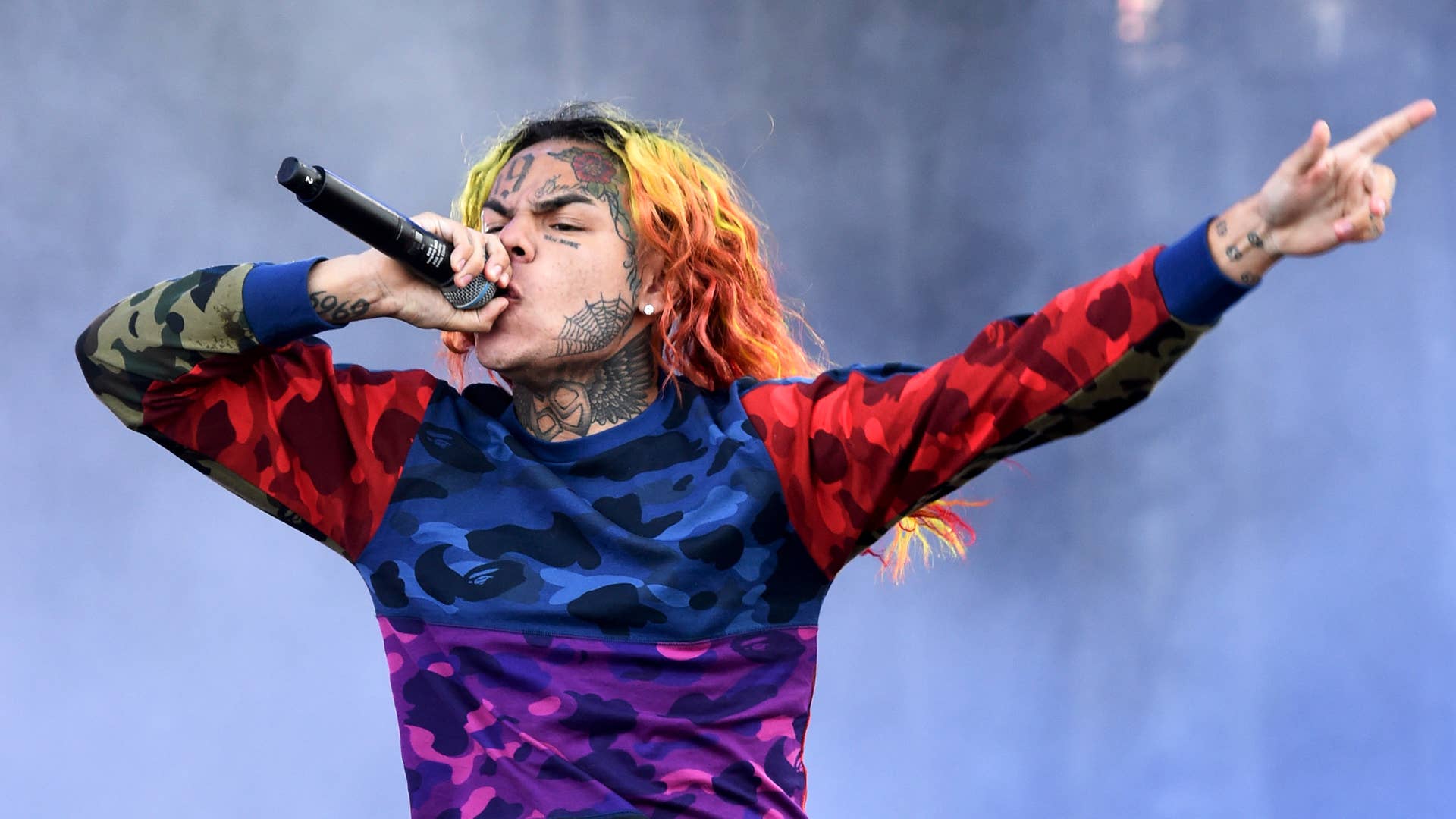 Getty
Image via Getty/Kevin Mazur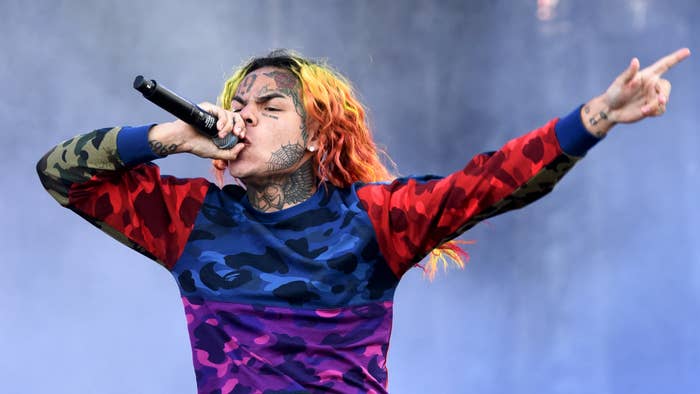 It happened. On Thursday, as expected, Judge Paul Engelmayer ruled that Daniel "Tekashi 6ix9ine" Hernandez should be freed from the private prison where he was to serve the remaining four months of his 24-month sentence, and be moved to home confinement. 
The decision (which was actually made on Wednesday—more about that below) means that 6ix9ine will spend the rest of his sentence at home, rather than behind bars. This was done specifically because of the coronavirus pandemic. 6ix9ine has a long history of asthma, and was actually hospitalized for bronchitis last fall, which means he's at a high risk of serious complications if he gets sick with COVID-19. After some back and forth between 6ix9ine's lawyers, the judge, and the Bureau of Prisons, Judge Engelmayer decided that it was the right thing to do to keep the rapper as safe as possible by having him at home rather than in a private prison.
So what now? What will life be like for 6ix9ine until his release date (either July 31 or August 2, depending on whether you believe the Bureau of Prisons or 6ix9ine's lawyer)? Can he release music? Will he be on Instagram? Can he talk to his friends, or his friends-turned-enemies? Can he scream "Treyway"? 
Complex looked through the court documents and spoke with legal experts. Here's what we know.
Will 6ix9ine be able to put out music?
"That's a really good question," answers attorney Jason Goldman when asked that question. Jason works at the Law Offices of Jeffrey Lichtman, whose titular head represented 6ix9ine's former manager Kifano "Shotti" Jordan. 
"I would think, optimistically, that he could," Goldman says, admitting that he isn't totally sure because "it's kind of a unique circumstance." But if 6ix9ine can make music, there may be some limitations. "Obviously whoever's counseling him would make sure that doesn't touch upon anything having to do with this case or the buildup to this case," Goldman explains. "But if it doesn't, then I don't see why, from his home, he can't be working in that capacity."
Just hours after 6ix9ine's release was announced, his attorney Dawn Florio confirmed Goldman's hunch. "Yes, he can release music," she told Complex. In fact, she continued, he's planning on starting work on both an English-language album and a Spanish-language one.
Will we see him on Instagram Live right away?
Even if 6ix9ine is allowed on social media, taking to it might be a risk. A video of co-defendant Kooda B partying while out on bond landed him in hot water with the judge.
But it seems like 6ix9ine might be permitted to go Live. He's bound to the terms of his supervised release, which don't mention anything about social media. And his attorney Dawn Florio told Complex, "So far, I haven't seen any restrictions about him not being able to go on social media." However, given the lengths the court went to make sure that 6ix9ine's location remained secret (see below), filming the inside of his house doesn't seem like a good idea. But as we all know, 6ix9ine has been reckless about filming before. 
What will life be like for 6ix9ine?
Not all that much different than life for the rest of us during a pandemic, as it turns out. "It's equivalent to what me and you are doing. He's going to be quarantined at home," Goldman tells Complex. "He's going to have someone he's checking in with regularly. Probably someone doing home visits regularly—if not daily, probably weekly. Ankle monitor. I'm sure limited devices, and even those devices, he might be put on notice that they'll be monitored. It's just about as tight as you can get." 
Now that we've seen the actual order for his release, we know Goldman is on the money. Until his release date, 6ix9ine has to remain at home unless he's visiting a doctor or one of his lawyers. And his location will be monitored by GPS.
Where was he being held this whole time?
Now that he's about to leave, we finally got the skinny on where exactly 6ix9ine was locked up. He was at the Queens Detention Facility, in Jamaica, Queens, right by JFK Airport. This was a closely-held secret until this week, when it became publicly available in court records. The prison is run by the GEO Group, a private prison company.  
Will we see 6ix9ine leave prison?
Don't bet on it—he is already out of prison and home. Buried at the end of the judge's order freeing 6ix9ine is a note that its public release of the document was delayed until 4 p.m. on Thursday, April 2. Judge Paul Engelmayer's decision letting 6ix9ine out was actually made on Wednesday, April 1.
The government requested the delay between the order and its public release to "allow law enforcement agents to ensure that Mr. Hernandez is transported safely and securely from the facility where he is currently housed to a residential address." According to the New York Daily News, 6ix9ine slipped out a rear door of the prison at around 2:30 p.m. on Thursday.
How is this different than what happened with his co-defendant Kooda B?
Kintea "Kooda B" McKenzie was another defendant in 6ix9ine's case. Like 6ix9ine, he was recently freed from behind bars because he was at high risk of getting very sick from Coronavirus because of his asthma. But the two situations are very different. 
Kooda is free on a $300,000 bond for only a few months. While he pleaded guilty back in June, 2019 to assault with a deadly weapon in aid of racketeering, he has not been sentenced yet. His sentencing is set for June 24 at 10 a.m. So he will be out until then. 
Because of the temporary nature of his freedom, Kooda's conditions are far less restrictive than 6ix9ine's. Unlike 6ix9ine, he is allowed out of the house. In fact, Kooda is under specific orders to seek employment or go to school, and to attend an anti-violence program in Brownsville, Brooklyn. He can't travel that far, of course: he has to stay in New York City, and has to surrender his passport. He can't be in contact with any gang members, or any of his co-defendants—and especially not 6ix9ine, who is mentioned by name in the bond paperwork. He can't even talk to any of 6ix9ine's family or friends. Kooda can't possess a gun, and must submit to what the paperwork calls "location monitoring" with GPS—likely an ankle bracelet. And, of course, he has to stay out of trouble—even committing a misdemeanor could potentially get him fined $100,000. Kooda has been on social media, jumping on Instagram Live almost immediately upon being let out of Manhattan's Metropolitan Correctional Center.  
Unlike Kooda, 6ix9ine is stuck at home. He's specifically ordered to stay there unless he's visiting a doctor or a lawyer. But like Kooda, he's subject to GPS monitoring, and you can bet the government will be keeping tabs on him.
For more about 6ix9ine, listen to the Complex/Spotify podcast 'Infamous: The Tekashi 6ix9ine Story,' narrated by Angie Martinez.