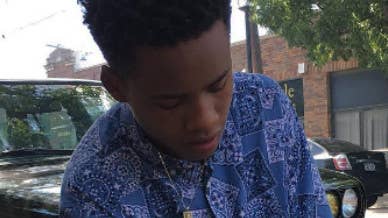 Tay-K has been indicted on a capital murder charge, according to a Texas district attorney's office.
The rapper, whose legal name is Taymor McIntyre, was charged with intentionally shooting and killing 23-year-old Mark Anthony Saldivar during a robbery that took place in April 2017, according to the Bexar County District Attorney's Office. He was 16 when he shot the victim.
McIntyre is currently awaiting trial at the Bexar County Jail, after being sentenced to 55 years in prison over a separate murder charge. He was convicted of murdering 21-year-old Ethan Walker during a home invasion robbery back in July of 2016. He was placed on house arrest but fled for San Antonio. It was in between arrests that Tay-K came out with his hit record "The Race," which he recorded while he was on the run from authorities.
The rapper still has a ton of support on the outside. Tay's sister has vehemently defended him, comparing his much longer sentence of 55 years to Amber Guyger's 10-year sentence after she was convicted of killing Botham Jean.
"Just so y'all know what white girl just got 10 years for a murder that she did commit, by walking into this mans HOME," his sister wrote on Facebook. "Meanwhile they just convicted my brother of murder and sentenced him to 55 years for a murder he did NOT commit because 'he should have anticipated it.' He should have anticipated that someone else would pointlessly pull a trigger in a situation that it was not necessary."