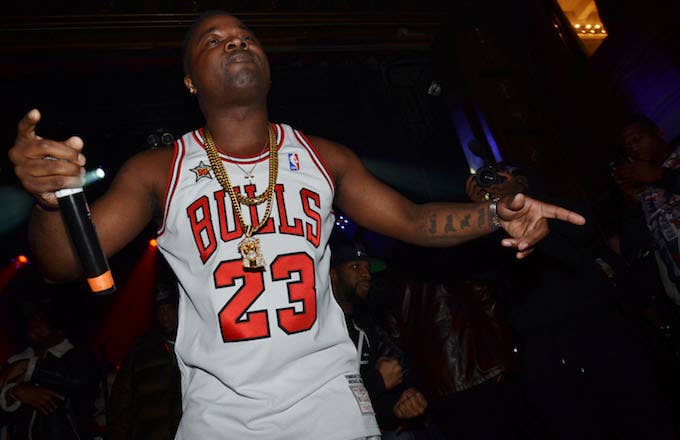 Troy Ave caught some backlash after the Jan. 31 release of "2 Legit 2 Quit," and he used his Instagram feed to respond to criticism about what many viewers interpreted to be confirmation of some upcoming court testimony against Taxstone.
"The other side is documented in court saying, 'It's #TroyAve he's the Bad Guy," Troy Ave wrote in a lengthy Instagram featuring his "Pray for Me" video. "As for me U can't snitch on Video Tape, U can't snitch on self defense. #FreeTroyAve I'm innocent."
Assumptions of Troy Ave providing court testimony against Taxstone came directly from the "2 Legit 2 Quit" lyrics, as Troy rapped, "I'm only loyal to my fam/Middle finger from the stand/It's either me or you." Some interpreted the lyrics to mean Troy would end his feud with popular podcast host Daryl "Taxstone" Campbell​ by testifying against him in court.
Troy Ave was arrested on charges of attempted murder and criminal possession of a weapon in May 2016 in connection to the Irving Plaza shooting that left his bodyguard Ronald McPhatter dead. A grand jury ultimately declined to move forward with the murder charge but did indict Troy Ave on second-degree attempted murder and several lesser charges. That incident also resulted in Troy Ave sustaining a gunshot wound to the leg, while Campbell was arrested on a federal weapons possession charge. According to a federal complaint obtained by the New York Times, DNA believed to belong to Campbell was found on a weapon used in the shooting. There was initial speculation that Troy Ave shot himself during the Irving Plaza incident. He waved off that rumor in his Instagram post as well.
"Remember they said I shot myself & killed my best friend," Troy Ave wrote, presumably referencing McPhatter.
One of Troy Ave's lawyers told the court "scientific evidence would show that Mr. Collins did not shoot himself," according to a New York Times report written after Troy Ave's attempted murder charge.
You can read Troy Ave's full Instagram post above.