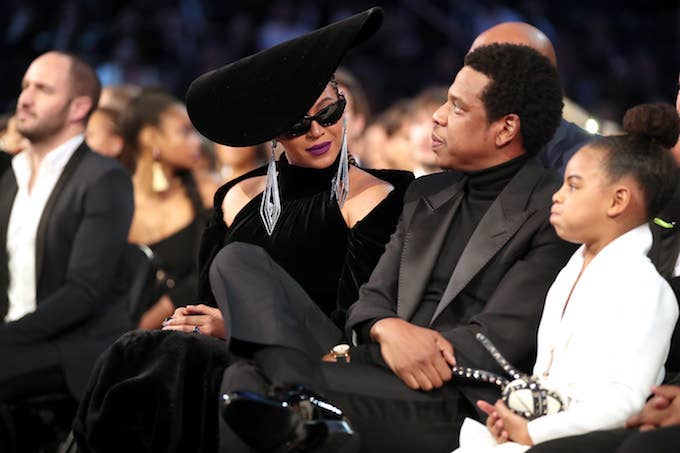 Jay Z's penchant for buying and rhyming about high-dollar art pieces may be causing a ripple effect throughout the Carter family. Blue Ivy was filmed at a recent auction attempting to get in on the action. While Beyoncé was honored for her humanitarian work at the Second Annual Wearable Art Gala at Los Angeles' Alexandria Ballrooms in Los Angeles Saturday night, Blue repeatedly placed five-figure bids on a painting by visual artist Tiffanie Anderson.
As bidding escalated, Blue raised her paddle indicating a placed bid for $17,000. You can catch the exchange, including Jay Z's hilarious reaction, in the Instagram clip above.
"Oh y'all made me come from behind the podium, because Blue was out there bidding," the auctioneer noted. "You gonna do 19?"
A giggling Blue Ivy raised her bidding paddle again and seemingly confirmed a desire to drop nearly $20,000 on Anderson's "Young Sindey." Blue's father, co-creator of songs such as "Money Ain't A Thing" and "Picasso Baby," didn't seem particularly pleased.
"Let me tell you, her mother and father have been talking about how you gather art," the auctioneer added. "That is a big deal for African-Americans. You know Miss Tina told me all of this."
It's unclear what the final bid for "Young Sidney" came in at, and there hasn't been any confirmation on if Blue Ivy secured the piece. If you're interested in getting a closer look at the work of art Blue wanted to drop $19,000 on, check out a closer view of Anderson's "Young Sidney" in acrylic and crushed glass above.