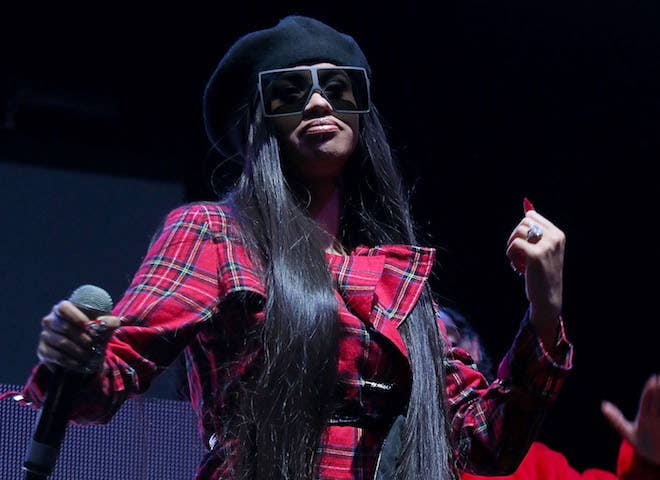 There's now speculation surrounding yet another upcoming high-profile Cardi B collaboration.
HipHop-N-More screencapped an Instagram post that hinted at an upcoming video for a Bruno Mars and Cardi B collaboration. An assistant to the sound manager for the song's video shoot posted and then deleted a photo of what's supposedly Cardi B's non-disclosure agreement. It was captioned with additional details of her whereabouts and reportedly namedropped "Finesse," a cut from Mars' 2016 album 24K Magic.
"When you actually witnessed greatness but wasn't allowed to use your phone," she wrote in the caption. "My star struck ass helped the sound manager record a video for Bruno Mars and Cardi allll night!! I left Cardi hunger ass be. She couldn't find plates. We like, 'Get this woman some plates please!' Let me shut up tho fore they never let me come back."
The actual picture of the doc doesn't show Cardi B nor Bruno Mars' names, so that clue has to be taken with a grain of salt. But on December 18, Billboard Co-Director of Charts/Hot 100 Chart Manager/Chart Beat Editor tweeted Bruno Mars would be dropping new music on January 4. Trust's tweet was also deleted for unknown reasons, but not before fans quickly responded with their excitement and curiosity.
❤️❤️ you bet not be playin with my emotions maaan! Lol This is exciting news! The music doesn't lie!
One social media post that hasn't been deleted is Cardi's response to finding out Bruno Mars was a fan. In August, when a fan asked Bruno which artists he was currently listening to, he quickly responded by naming Cardi B. In turn, Cardi wrote, "This is soooo crazy. Can't believe he even knows me @brunomars soooo Dope !!!!!"