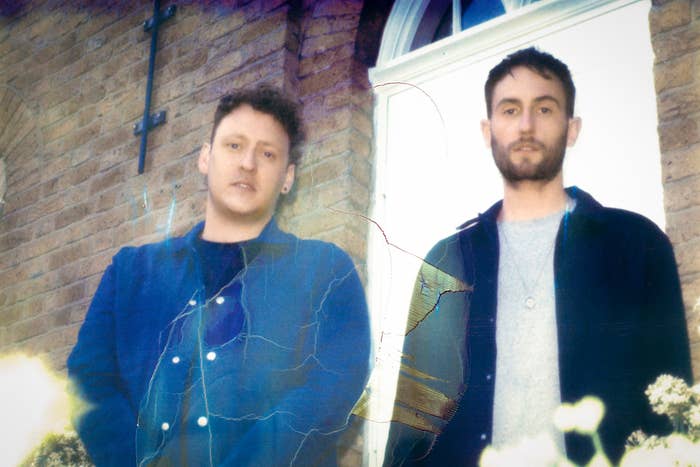 Maribou State's reputation for writing textured, enveloping, atmospheric music is hard-earned. Obsessively refining their unique, intellectual sound—recording, sampling, writing and producing music that powerfully demonstrates the very heights of the duo's towering abilities—Chris and Liam proudly unveil the most accomplished material they've created thus far. Entitled Kingdoms In Colour, this sophomore phase of Maribou State's career feels monumental and sounds utterly beautiful. Steeped in mood, mysticism and heavily influenced by both Londoners' love of India, this inspirational compendium of vibrant sonic tones resonates with light and hope.
Emotive and intelligent, each chapter of the music on Kingdoms In Colour morphs successively into the next charged moment, like a heady fog descending at sunset. An introspective moment is awoken in each and every listener experiencing this music—one which blossoms with clarity. Taking a break from the scene following the release of their debut LP, Maribou State has returned with an astounding impact; selling out shows worldwide, both former Hertford School pals have come a long way since the recording of their early material, recorded from a suburban, flat-pack shed studio. Complex caught up with one half of the duo, Chris Davids, to find out how both writers are feeling in the wake of their latest creative birthing.
What were the moods which ran cohesively throughout the conception of this album? Was the creative process quite quiet and introverted on Kingdoms In Colour?
It was so unbelievably varied across the process. We're not a conventional band—we've never been able to dedicate three months to nail down an album, it was always very spread out. In the original stages of Kingdoms In Colour, we were writing in-between shows on tour or DJing. That was all based in our London studio but, from the start, it was a slow burner for the both of us; there were a lot of creative blocks and conflict over what direction to take things in, but towards the end I think we really locked ourselves away and the mood became intense in the studio. We were dedicated to what we were doing
Do you enjoy the process of both producing and writing, or is this dual responsibility a perfectionist's torture?
It's a mixture of both—a blessing and a curse—but I don't think that we had ever previously got to the point we are now, with just how obsessive we are. It's reached a crescendo of not being able to turn off, and that's the only downside. Every waking moment of the day, my mind is thinking about what we're going to do in the studio or I'm taking notes, voice and field recordings, which can be quite frustrating to the people close to you—and your mental health, at times. It's hard to switch off, but this has been so instrumental in us getting to where we are now.
Did you sleep for days once the LP was signed, sealed and delivered?
Yeah, towards the end when we were at the finish line. Prior to that, I had insomnia—it was a really brilliant moment when that disappeared.
I read somewhere that Turnmills, the late, monumental club, was your first experience of live electronic music.
Liam didn't get let into the club for some reason that night. We could have been underage. I'm not entirely sure why. So that first time in Turnmills I was alone; after that, we visited a couple of times together. That was one of the first times we started listening to electronic music. We went religiously for a few years and that club, in particular, just started opening our eyes to the live electronic music scene.
Why was Turnmills such a formative experience for you?
There was something about going into that club—it was like a maze! I just remember getting completely lost in it and meeting so many cool people. There was a chill-out area where you could be separated from the music, but you could still hear it through the walls. Growing up in an area where we were outside of London, and that was just a completely different world, we made loads of friends and forged stronger friendships with our own friends. The first time we went, we had a minibus booked at 6am to come back with 10 friends but, other times, we would get the first train home which is such a grim experience [laughs]. People would be travelling to work and you would be there looking completely haggard.
Have you got the aesthetic for the upcoming roundhouse show finalised now?
We're working on it at present. There will be guest musicians; established artist collaborations brought on stage.
What live electronic acts have had a big impact on the way you would like to build your live show?
LCD Soundsystem definitely had a huge impact when we saw them at Glastonbury, two years ago. That was incredible—so, so good.
There's such an Indian vibe throughout the album. You have played various shows there in the past, and l wondered why you had decided to weave such exotic sounds and influences into the new material?
I've been to India quite a few times since I was 18, and it's always felt like an exciting, colourful country. We toured India in the beginning stages of creating this album; we spent a lot of time there making field recordings and, from that, wrote quite a few songs from that point. So, in the initial period of writing the record, those sounds just seeped in and formed the thread which would run prevalently through Kingdoms In Colour. It was subconscious, though. We never made the conscious decision for that to happen, to include Indian melodies and sounds, but subconsciously it just appeared.
What were the crowds like when you played in India?
We played DJ shows in Delhi, Mumbai, Peloni and Bangalore; they were all really cool venues and the crowds were the most up for it out of every country we have ever played to. We were playing tracks that we don't usually play, we certainly didn't expect those more obscure tracks to really go off, but people really went totally mad for every song! We played at 10pm and people were jumping to the front and sweating. It was quite mad.
You have such a diverse touring remit: South Africa, India, Morocco. I think that's quite unique for a London-centric electronic duo.
It is. We are very lucky. We enjoy touring and have never had to spend too much time on the road—tours have generally been scheduled more sporadically, with shows set apart. This year with festivals, the shows were programmed across a couple on the weekend and when we toured Portraits, it was only 3 or 4 days at a time. I think when we embark on the upcoming three-week tour in America next year, we return to the UK, then we have Brixton, then straight into Europe for another three weeks.
How did that affiliation with Pedestrian first happen?
Through SoundCloud. We heard an EP of his and dropped him a message. The very next day, Jack told us he thought Maribou State were really up his street. He then came to the home-built studio we called 'The Shack', in Liam's parents' back garden, and we did a remix together of Lauryn Hill's "Doo Wop" and it went from there. That was five or six years ago, and we stopped working from The Shack three years ago. We like to shed our skin when we write something new. That studio was tiny, it was 2x2 metres, so we couldn't fit much equipment in there. We moved to Hackney to get a bigger warehouse studio.
Are you preferring it?
In some ways, yes: being in London gives us way more opportunity to work with different artists and there is more space. But, at the same time, we found it difficult to get into a groove—London is a very intense environment to experience after growing up in a village. When we first moved here, it was stifling for six months. We barely got anything done because we were so consumed with living, the social life... The early stages weren't very fruitful.
Are you enjoying playing the headline sets at festivals now, as opposed to the afternoon slots you would play when you first started out?
Yes, for sure! The thing we struggled with when we played in the day when we used to play those afternoon slots, was drawing in crowds. There is more atmosphere at night. The music didn't translate as well in daylight, but in the evening you can have lights and create a mood.
---

Stream 'Kingdoms In Colour' below or grab it from iTunes here.