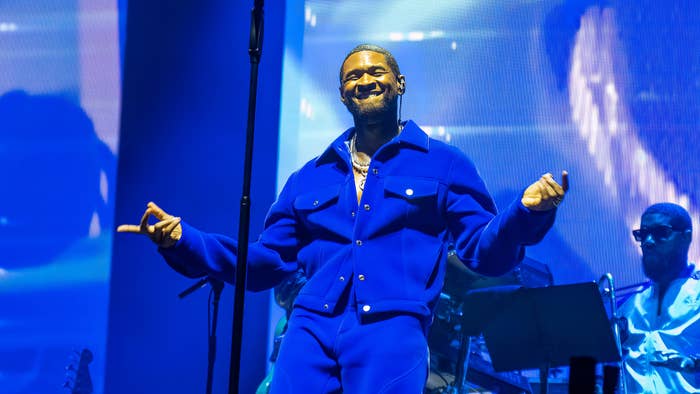 Usher has made it clear once again that he wants to headline the NFL Super Bowl Halftime Show and that he would be a "fool" to turn down such a huge opportunity.
During an interview with Access Hollywood's Scott Evans at the Flipper's Roller Boogie Palace pop-up in Los Angeles earlier this week, Usher shared his thoughts on potentially headlining a Super Bowl Halftime Show. According to the Grammy Award-winning singer, there's no question that he would want the halftime show to himself, especially with all the hits in his arsenal.
"I'd be a fool to say no," Usher said. "Well, I mean, you know, things line up that we would all hope. You know, one day, that moment will happen."
Usher performed at the Super Bowl XLV Halftime Show as a guest during the Black Eyed Peas set in 2011. At the time, Usher performed the will.i.am assisted "OMG."  
The Atlanta native also mentioned other legendary performances, such as Michael Jackson, Prince, and Dr. Dre before revealing the Super Bowl Halftime Show is on his "bucket list."
Fans have been stirring the pot with rumors of Usher headlining the show ever since Rihanna tore the house down last January. Social media erupted with people debating whether Usher's catalog that includes classics such as "Confessions, Pt. II," "Yeah!," "Nice & Slow" and more, would be a fit for the big show.
During an interview with AP News in February, Usher was appreciative of being included in the conversation in the first place.
"What I am thankful for is the fact that there's even any conversation about me — period," he said. "I feel humbled that at this age and this juncture of my life, people still have to ask the question, (even) after all of the No. 1s that I've had and all the diamond (selling songs), that I have enough records to perform 15 minutes. If I were ever asked to perform at the Super Bowl, of course I would definitely be into it."