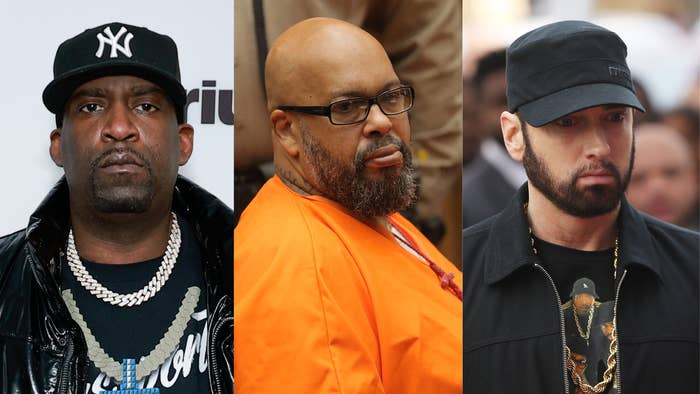 Tony Yayo has recalled the time Eminem showed his stripes during a confrontation with Suge Knight on the music video set for 50 Cent's "In Da Club."
During his appearance on Drink Champs, Yayo explained what happened the day the former Death Row Records boss paid a visit to 50 Cent, Eminem, and crew. According to the G-Unit soldier, everything was going smoothly on set until Suge popped up with a crew of gangsters in tow.
Yayo, 45, said someone on the set warned everyone Suge Knight was on his way, which caused a huge commotion. As Tony explained, "Cameras are falling, dancers are running, everybody's running—'Suge is coming!'"
The "So Seductive" rapper then claimed he was shocked at the scene as people from New York weren't used to seeing situations like that play out the way it did that day.
"We like, 'Damn, what we got to lose? If we don't pop now, we going back to the hood!'" Yayo said. "So it's like, fight these Mexican Blood n***as, killer n***as, or go back home to the crib. Might as well go all out and fight right here! We around Dr. Dre, so it's like, 'Yo, we gotta do what we gotta do.'"
He continued, "[Suge] lights his cigar, and he trying to see what you gon' do. ... This is when I knew Eminem was real. He was like, 'I don't give a fuck, man!' I'm like, 'Damn Eminem is a real n***a.' 50 n***as outside. 'What's up?!' And then the n***a Suge just walked away, and the Mexican n***as looked kind of confused like they didn't know what was going on."
Tony Yayo attributed Eminem's fearlessness to his hometown of Detroit. According to Yayo, people from the city are "crazy," and he proved that with a story he once heard about the late Proof of D12 confronting Suge Knight at a club and accusing him of killing 2Pac.
"Remember, it's documented, Proof told Suge, 'Yo, you killed 2Pac!' in the middle of a party," Tony recalled. "Them Detroit n***as are kinda crazy, bruh! Them 7, 8 Mile n***as always been crazy. … You could ask anybody, Proof was a wild boy. Rest in peace to Proof."
Former Complex editor-in-chief Noah Callahan-Bever corroborated Tony Yayo's story with a tweet explaining the confrontation really did go down.
"This happened at the 'In Da Club' video shoot, right after we did the interview for the Em, Dre, 50 XXL cover," he wrote. "And yeah, it was very tense, lol."
The full Drink Champs episode—all five hours of it—is available here.