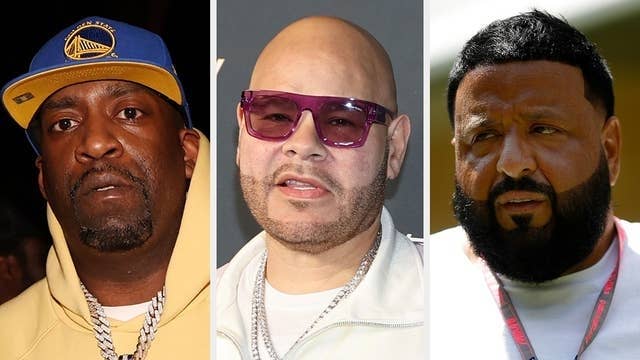 In an appearance on Drink Champs, G-Unit rapper Tony Yayo opened up about reluctantly being involved in a beef with Fat Joe and how the situation led to an awkward meeting with DJ Khaled.
"So in my mind, we had beef with Fat Joe. I'm like, 'Damn, we got beef with Fat Joe now?' Because sometimes you'd be like, damn you wanna enjoy your rap career a little bit,'" Yayo said around the 1:25:00 mark of the five-hour episode, where he was seemingly expressing frustration over 50 Cent getting into it with Joe. "So now I got my record I'm trying to promote, so they like, 'Yo, you gotta go to Miami.' So I'm like, 'Aw shit, Miami, man. I gotta come out here, bro?' They're like, 'Yo you gotta go to DJ Khaled.'"
His team told him that Khaled was going to play one of his new tracks on his radio show at the time, but Yayo didn't think it was a good idea because of Fif's issues with Joe. "So we go up there, 'DJ KHALED!' ... He's a marketing genius he's getting bigger at this point, I told these n***as, 'Don't take me to DJ Khaled,'" he continued. "Fat Joe, that's his man. He damn near Terror Squad."
When Yayo got to Miami for the radio appearance, he said someone who he refused to identify had "the big hammer on them," indicating Khaled's team was ready in case it got ugly. When he came face-to-face with Khaled, the producer and radio personality seemed as though he was going to shake Yayo's hand, only to tell him, 'DJ Khaled! Get the fuck outta here!'"
While he respects Khaled for sticking with Fat Joe back then, at the time he had a different reaction. "So I'm like, 'Fuck you Khaled!' I swear to God," Yayo laughed. "You can ask him!" The Drink Champs hosts doubted that Khaled yelled his own name as he does on his records before telling Yayo to beat it, but he insisted that's how it went down. "'DJ KHALED, get the fuck outta here!' I'm looking at the radio n***a like, 'I told you this n***a don't fuck with n***as,'" he continued. "Shout out to Fat Joe, I'm glad the beef with Fat Joe over, man."
Later on in the episode, N.O.R.E. asked Yayo if there were any particular beefs he wasn't happy about being dragged into as part of G-Unit, to which he replied, "I think Fat Joe, man. Them Spanish n***as from the Bronx, them n****s, man, is just crazy. The Dominican, Puerto Rican n***as, like them n***as, when it comes to certain n***a* they love they gonna go all the way."
Yayo added that during a run-in with Pistol Pete of Terror Squad, he was backed up by "two little grimy n***as with him," who he suggested looked like they would take out a switchblade and wave it around like they're a gang member in West Side Story. "Joe had n***as that was ready to die," he said. "You know them n***as in the Bronx, n***as will pull a machete out on you, start dancing. That's when I realized them Bronx n***as is crazy."
Watch the full Drink Champs interview on YouTube.