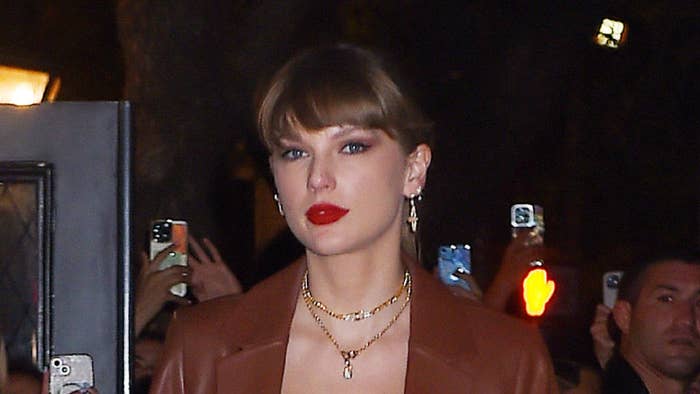 Taylor Swift had the biggest debut week in almost 10 years thanks to her latest re-recording, 1989 (Taylor's Version), topping the Billboard 200 chart.
According to Billboard, Swift's project debuted at No. 1 and garnered 1.653 million equivalent album units in the week ending on Nov. 2. That number has given the 33-year-old the largest sales week for any album since Adele's 25 grabbed 3.482 million units in its first week back in 2015. The original version of 1989 debuted with 1.287 million sold in its first week in Nov. 2014.
1989 (Taylor's Version) also marks the sixth-largest sales week for any album ever, joining Adele's 25 (3.378 million), *NSYNC's No Strings Attached (2.416 million), *NSYNC's Celebrity (1.878 million), Eminem's The Marshall Mathers LP (1.76 million), and Backstreet Boys' Black & Blue (1.591 million).
In total, Swift now has 13 No. 1 albums, the most for any female artist ever. She's also tied with Drake for third place on the list of any artist behind Jay-Z's 14 and the Beatles' 19.
Swift's re-recordings aren't just topping the charts, they're also making record labels make changes to their contracts. She began to re-record her first six studio albums in 2019 in order to regain ownership of her masters after she was unable to buy the rights to her music when her former label, Big Machine Records, was infamously acquired by Scooter Braun.
The effort has been successful, with each re-recorded album outperforming their original counterparts, including her most recent release1989 (Taylor's Version). Labels are now ready to enact new clauses to prevent future artists from devaluing the original works.
Major record companies, such as Universal Music Group, Sony Music Entertainment, and Warner Music Group, are set to introduce stricter contract terms for artists by demanding longer waiting periods before they can re-record their music, according to Billboard.