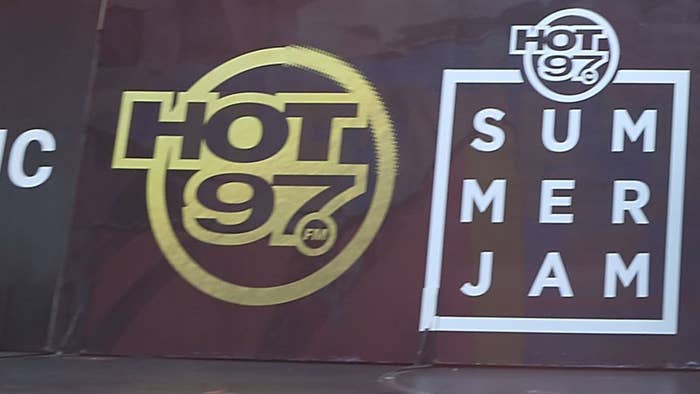 Officials in Nassau County tried to get a section of Hot 97's annual Summer Jam concert canceled and failed to do so, according to News 12 Long Island.
The 2023 edition of the festival is taking place on Sunday at the UBS Arena in Long Island, and Cardi B is headlining the show, but not everyone is fond of the festivities. Hot 97 usually has an outdoor stage set up for new artists to perform before the main event kicks off inside whatever venue the radio station rents out.
The outdoor festival stage struck a chord with a few Republican lawmakers in Long Island all because of issues Hot 97 had in the past with arrests that happened at the 2015 and 2017 editions of the show. The lawmakers decided to take matters into their own hands and filed a lawsuit aimed at canceling the outdoor festival stage.
Due to the number of arrests at previous concerts, the lawsuit labeled Summer Jam a "public nuisance" filled with "riot-like behavior and criminal violations." Despite the reasoning, some community members feel the lawsuit is racially charged.
Jermaine Brown, a man who lives down the street from the UBS Arena, told News 12 he had witnessed unruly crowds from horse races in the Elmont area, but no one ever filed a lawsuit to curb that event.
"When we have the races, I don't hear of a lawsuit, and I have people passing out on my lawn, drinking. It gets really crazy around here," Brown said.
Democratic Legislator Carrie Solages pointed fingers at Nassau County Republican Executive Bruce Blakeman and claimed the lawsuit was a political stunt while accusing him of targeting Black and brown people.
"This last minute political stunt may cause tension and a crisis rather than prevent one," Solages said. "He had no problem promoting a Joan Jett concert despite past violence at her concerts. Why is he targeting hip-hop and criminalizing our culture?"
The county executive released a statement in response saying: "I am shocked that any legislator would not be concerned about a public activity where the promoter in the past has been banned from other jurisdictions due to the high level of criminal activity and illegal drug use."
Fortunately, a deal was reached for Summer Jam to move forward as planned. The agreement between the parties included increased security measures, such as an additional 80 police officers paid for by Hot 97.
Fans can expect acts such as Ice Spice, Coi Leray, GloRilla, Lola Brooke, French Montana, Fivio Foreign, and Lil TJay to perform alongside Cardi B on Sunday. Hot 97 will also be celebrating hip-hop's 50th anniversary with an appearance by The LOX.