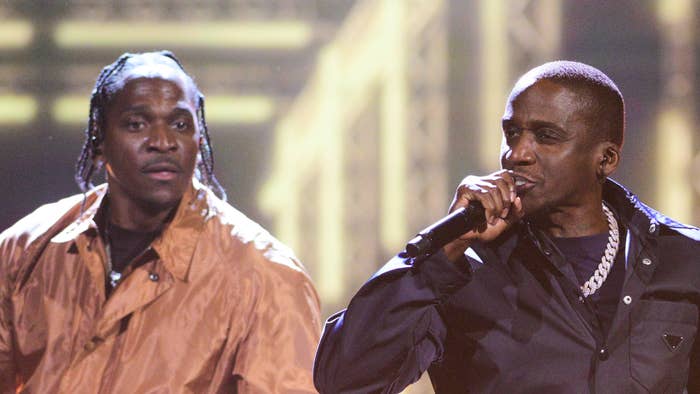 Pusha T has revealed he tried to recapture the Clipse magic he had with his brother No Malice on his solo albums but realized he couldn't do it.
In his conversation with GQ, published on Tuesday, King Push reflected on the way he would approach his solo albums after hearing all the fans say he was missing the sauce that Clipse was known for. According to Push, he heard the chatter and tried to bring that magic back but came to the conclusion that it just wasn't the same.
"Just to be all the way honest, ever since I went solo, I heard the cries from the fans of what they were missing from the Clipse in my solo albums," Push said. "And I've tried to mimic and infuse, and tried to cater at some points, but it's never enough. And I had to come to terms with that. [No Malice] actually brings a level of introspection that's like, man, I can't dial into it and do it the way the people and the fans want to hear it. And I've taken that L."
The reporter told Push "I don't know if that's an L necessarily" and Pusha T clarified it was a loss because he tried and knew that he couldn't do what his brother did on Clipse records. Their fans would also know that it wouldn't be the same.
"I'm just saying it's an L because I've tried, because I know the issue and know that I couldn't honestly check that box off," he continued. "The people have already sipped the Kool-Aid, right? They already know how it's made. They already understand the amount of sugar that's in it."
He added, "It doesn't taste the same when I make it, and they know that. So I couldn't necessarily always check that box off, and I was trying to, no lie."
Fans have been clamoring for Pusha T and No Malice to come together and drop a comeback Clipse album, which they have been teasing for years on tracks such as "I Pray For You," "Punch Bowl," and Kanye West's "Use This Gospel."
Last month the brothers reunited to perform at Amazon Music's 50 & Forever show, celebrating the 50th anniversary of hip-hop. In front of a huge stack of cocaine bricks, Clipse performed various hits such as the Neptunes-produced "Mr. Me Too."