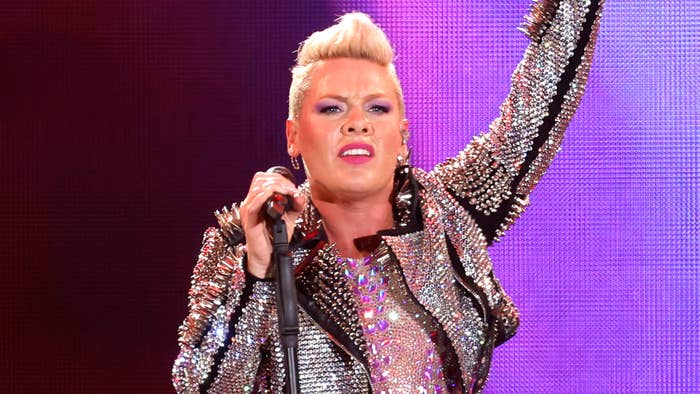 Pink had to make an executive decision at a show recently when a fan thought it was a good idea to protest the act of circumcision in the middle of her performance in San Antonio, Texas.
The Grammy Award winner took up space inside the Alamodome for a stop on her Summer Carnival Tour, and as she performed an acoustic segment, a man stood in front of the stage holding up his phone that had a message stating, "circumcision: cruel and harmful."
According to footage shared on TikTok, Pink read the message and asked the man, "Oh, you're making a whole point right now, aren't you? Do you feel good about yourself?"
She added, "You spent all this money to come here and do that? I'm gonna have to buy a Birkin bag with that type of money. Get that shit out of here. He wants all of you to read it. He came here tonight to talk about circumcision."
Pink then had security escort the man out of the venue, and while he was being removed, she said, "I feel bad. I feel bad that he wasted his time tonight."
This isn't the only time Pink had to deal with people protesting circumcision. In 2019, the singer showed her frustrations with the criticisms she received on an Instagram post showing her son Jameson Moon without his diaper.
"There's something seriously wrong with a lot of you out there. Going off about my baby's penis? About circumcision??? Are you for real?" she captioned the post. "As any normal mother at the beach, I didn't even notice he took off his swim diaper."
Pink also shared a photo of her beside a pelican with Jameson, whose exposed bottom half was scratched out.
"I deleted it because you're all fucking disgusting. And now I'm turning off my comments and shaking my head at the state of social media and keyboard warriors, and the negativity that you bring to other people's lives," she said. "There is something seriously wrong with a lot of you out there. Smfh."