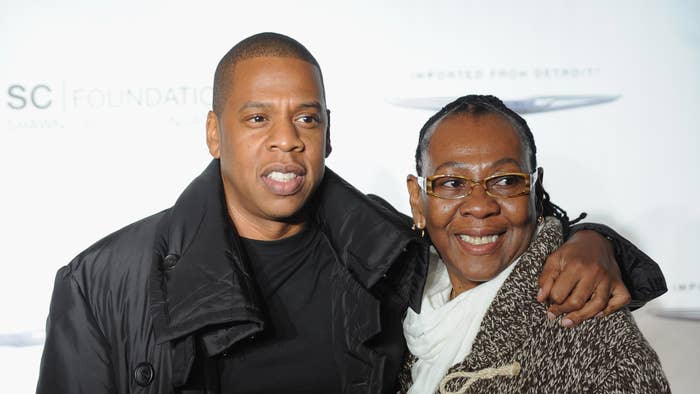 Jay-Z had a pretty hilarious explanation behind his mother's absence at the gala held at the Brooklyn Public Library on Monday.
The gala honoring the rapper and his mother, Gloria Carter, had a star-studded guest list that included Tom Brady, Meek Mill, Quavo, Travis Scott, Kim Kardashian, and more. Footage of the fancy event surfaced on social media, and one of the clips showed Hov explaining why Dr. Carter couldn't attend because she was more than likely hungover.
"I figured if these young men could speak on behalf of their dad, I could speak on behalf of my mom," Jay stated. "Dr. Gloria had to see a doctor earlier. She's gonna be very upset that I told y'all that. She gave me a very bad excuse, and I couldn't do it and lie to the good people of Brooklyn."
Jay-Z added with a bit of comedic flair, "I think she's hungover. There's no other way to put it. She wanted to be with you guys, but this is what she would want me to say. Y'all not taping this, are you?"
The Roc Nation boss's knack for hilarity isn't just reserved for his mother but for his old Roc-A-Fella crew, too. During his visit to Drink Champs, former Roc-A-Fella records rapper Memphis Bleek shared a funny story about Hov showing his petty side while on tour.
According to Bleek, some of the Roc artists got a little too comfortable, and Jay was forced to fill their car up with gas in freezing weather.
"We get to the gas station, you know they got the heat on in the car everybody chilling, coat off, nobody wanted to get out the car and pump gas, so Hov like, 'I got to get out and pump gas? Alright.' So he get out, pump gas."
He continued, "He went in the trunk. Everybody coat was in the trunk. He went in the trunk to grab his coat, jumped in the car, rolled all four windows down, and started doing like a buck. Like 'Y'all n****s ain't wanna [pump gas]?'"