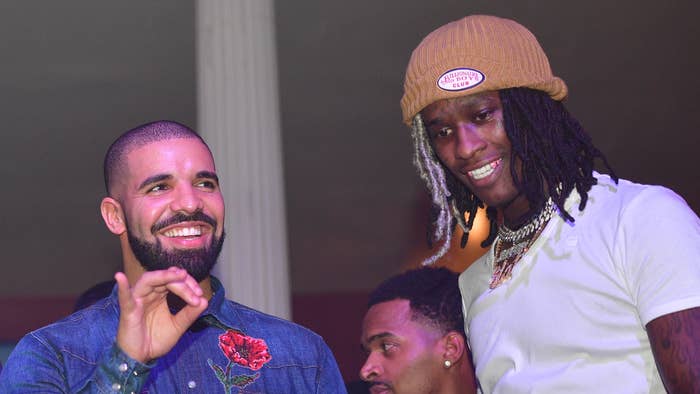 Drake has shown he's fully supporting one of his good friends Young Thug with an Instagram post of himself wearing a custom hoodie honoring the ATL rapper.
On Friday, the 6 God took to his Instagram with a post showing him rocking a custom-made white hoodie with a design showing Thugga's Jeffery album cover featuring him holding an American flag with the words "STOP RICO" stamped across. In the caption, Drizzy called for the release of his brother.
"3 the guys out the you know...," Drake wrote.
Drake recently collaborated with Young Thug on "Parade on Cleveland" and "Oh U Went" off his new album BUSINESS IS BUSINESS. The duo released a music video for "Oh U Went," which had Drizzy visit his family in Memphis, Tennessee.
Before those two records, Drake and Young Thug released even more collaborations, such as "Bubbly," "Solid," D4L," "Way 2 Sexy," "Sacrifices," and more. Even though he's getting a lot of love from Drake and other rap peers, Thugger is still having to wait to hear his fate in the YSL RICO trial.
The jury selection for the trial has reached its eighth month, and Thug has been denied bond for a fourth time. Per ABC News and WSB-TV, Thug and fellow YSL rapper Yak Gotti were denied their bond requests on Friday during a court hearing.
Thug's attorney Brian Steele told ABC earlier this week that he should not be considered a flight risk and has been experiencing health issues during his time behind bars.
"Mr. Williams is not a risk to commit a crime, and he's not a risk to flee the jurisdiction, and that's what bond is about," said Steele, who described his client as "sleep-deprived." He added that Thug has a schedule that sees him up as early as 4 a.m. every morning as part of the trial.