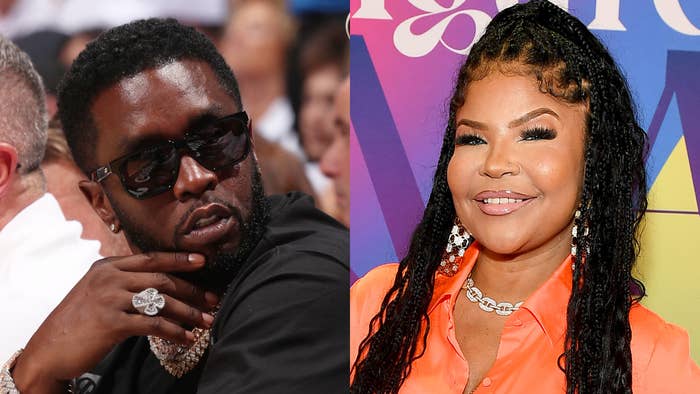 Diddy and his ex Misa Hylton are on better terms after the latter seemingly dissed the media mogul after their son, Justin Combs, was arrested for a DUI.
On Friday, the Bad Boy Records founder uploaded a video on Instagram promoting his DeLeón Tequila brand and declared it was "fuck everybody" season.
"Fuck everybody," Diddy said. "You know? Sometimes you have to say 'fuck everybody'. It's alright. Fuck it Friday, let's go."
According to The Shade Room, Hylton commented on the post, writing, "YUP that's how I feel every day." Her comment was seemingly deleted, but Diddy replied to it, writing, "I love you queen. Stay in the light."
The peaceful exchange happened after Hylton had fans thinking she was upset with Diddy with an Instagram Story she shared after their son Justin was arrested. According to Hylton, she was fed up and claimed "this [is] where the buck stops" for her after "sit[ting] around for years and act[ing] like there isn't anything wrong with you."
"I'm not protecting no one anymore, just my son," she wrote. "The statement 'a fish rots from the head down' means that, in addition to being a major contributing factor in a family or organization's success, leadership is also the root cause of its failure and demise. The Truth shall set you free."
She continued, "Act BAD BAD boy I used to want to be a BAD Girl I chose to be a QUEEN Tried and true. I'm not perfect but I am INTENTIONAL. I should have kept my child with me. Fuck UCLA too. Everybody can get it. How you go from one of the greatest to ever do it To making all your money off alcohol And suing the damn alcohol company. Sell something healthy that builds people up. I'm sick of it!!!! NOT MINES."
Justin Combs was arrested after officers saw his vehicle run a red light, which prompted them to follow through with a routine traffic stop. Combs' bail was set at $5,000, and he was released on his own recognizance.