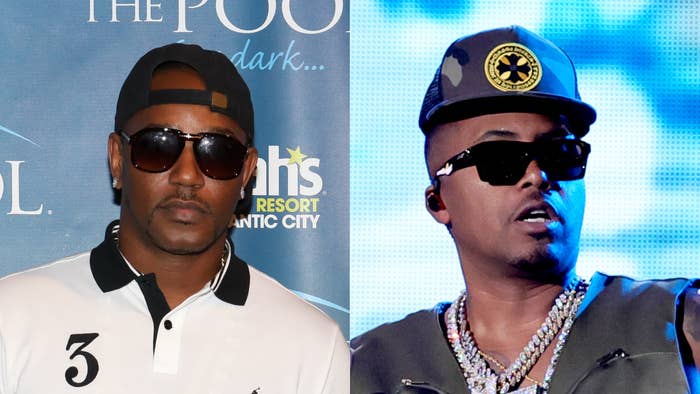 Cam'ron recently gave a shoutout to Nas for including him in Mass Appeal's Hip-Hop 50 Live concert at Yankee Stadium while also reminiscing on how far they've come since their beef in the early 2000s.
On Tuesday, Killa Cam took to Instagram with a video of himself thanking Esco for putting their past issues on the back burner and inviting him to perform a full set at Yankee Stadium in the birthplace of hip-hop, The Bronx.
"I wanna give a quick shoutout to that nigga Nas real quick," he said in the video. "Queensbridge Nas, yes, Escobar. A lot of people may not know, or if you do know, that was his event, him and his company's event, Mass Appeal, at Yankee Stadium the other day."
"For them to invite me and make me a part of the Hip-Hop 50 shit that they put together, knowing the history we had in the past, that was really big of him to respect what I got going on as my contribution to hip-hop the last 25 years I've been doing it."
He continued, "The past we had, whether it was beef or not beef or just music, whatever it is, I appreciate the invite from probably the greatest lyricist in our time, in our era. So I just wanna say I'm thankful for that, thank you Mass Appeal.
The Dipset leader stated performing in Yankee Stadium is a milestone, especially when he's performed at several iconic NYC venues such as Madison Square Garden, Apollo Theater, Beacon Theatre, and more. According to Cam, it was a "surreal experience."
"So I just wanna say shoutout to Mass Appeal, shoutout to Nas," he said to close out the video. "Thank you for looking past all the shit we went through in the past. Shoutout to Jungle, all them niggas at QB for respecting the artform for one of the best lyricists of our generation, and that's Escobar. Salute to you, bruh."
The beef between these two started when Nas dissed Cam'ron during an interview with Hot 97 for no apparent reason. The beef eventually bled on to wax, where both sides traded shots on various records, including Cam'ron's "I Really Mean It," which contains adlibs from Jim Jones dissing the Queensbridge native.
In his Drink Champs episode, Jim Jones revealed he has yet to have a sitdown conversation with Nas following the end of that beef. He mentioned how Nas is one of his "all-time favorite" rappers, too.
"I never got to sit down and have a conversation with Nas and things like that. That was like still one of the people that I never got to have a conversation, you know, throughout my history of rap and things like that," Jim Jones said. "I think I would love to have a conversation with Nas. I wouldn't know if he knows it, but Nas was one of my all-time favorite rappers coming up, since 'Live at the Barbeque.'"