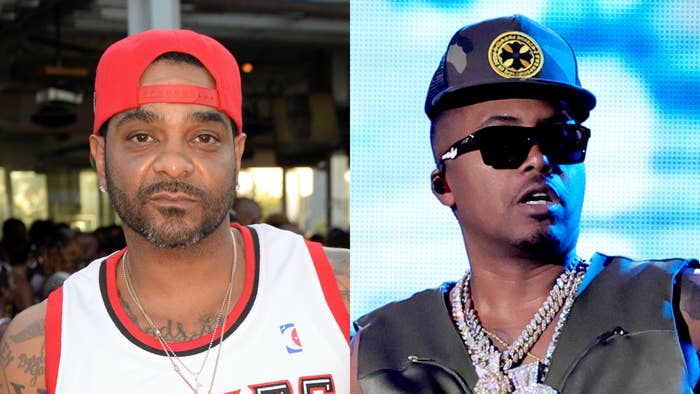 Jim Jones has revealed he never got a sit-down conversation with Nas following the infamous beef between Esco and Cam'ron in 2002.
During his appearance on the latest episode of Drink Champs, Capo reflected on the beef that started when Nas dissed Cam'ron for no reason in a rant about Hot 97. The friction spilled over onto wax, with Nas calling Cam's album wack at the time, and both crews of the superstar rappers (Bravehearts, The Diplomats) got involved.
Both crews kept the disses going, especially Jones, who famously told Nas he would "smack that Kufi straight off your muthafucking head," which was mentioned in various songs such as "Hate Me Now Freestyle," "It's More Than Music," "Summer With Miami," and "We Fly High."
The beef ran its course, however, and Capo explained he hasn't spoken to Nas since that situation, despite the Queensbridge native being one of his favorite rappers ever.
"I never got to sit down and have a conversation with Nas and things like that. I had called you about it. That was like still one of the people that I never got to have a conversation, you know, throughout my history of rap and things like that," Jim Jones said. "I think I would love to have a conversation with Nas. I wouldn't know if he knows it, but Nas was one of my all-time favorite rappers coming up, since 'Live at the BBQ.'"
Capo added that Esco captured the whole dope boy/hustler lifestyle in a way that hadn't been done before. According to Jones, Nas "changed the whole cadence of rap" and inspired a legion of artists, such as Jay-Z and Fat Joe, who also took the scene to another level.
Unfortunately, because of his undying loyalty to Dipset, Cam's militaristic approach to handling their foes, and the competitive nature of the industry itself, Capo knew he couldn't look at Nas as an idol anymore once he got into the business.
"I understood that as soon as we got signed to the game, I understood that nobody was no longer my idol anymore," Jones explained. "They were my rivals, and we had to treat it as that, and that's the way we attacked the game. Like it was nobody bigger than the set, that's something that Cam was serious about. You know, as crazy as Cam could be at some times, he's very smart."
In an interview with the Rap Radar Podcast in 2019, Killa Cam spoke on the beef and how much he regretted going at Nas back then. According to the Dipset leader, he found out some information that made him regret saying some of the things he mentioned about Esco.
"It was really tough decision to make but dag, man. What did he diss us for," Cam said at the tame. "We didn't even do nothing to him. He's more mad at Hot 97. At that particular era, it was like, 'Look, this is Nas. We can't just do one song because he could come back with another song and kind of kill everything, you know what I'm saying? So let's just bombard the situation, you know what I'm saying?"
He added, "That was the only way we felt that we could handle it because Nas was such a legend at that particular time.I mean, at that particular time, I probably didn't [think that]. There's some things that I found out about afterwards that I probably wouldn't have said if I knew. Do I regret it? Yeah, because I didn't want to go that far. But, at that particular time in my mindset—and the n****s I was running around with, they didn't give a fuck."