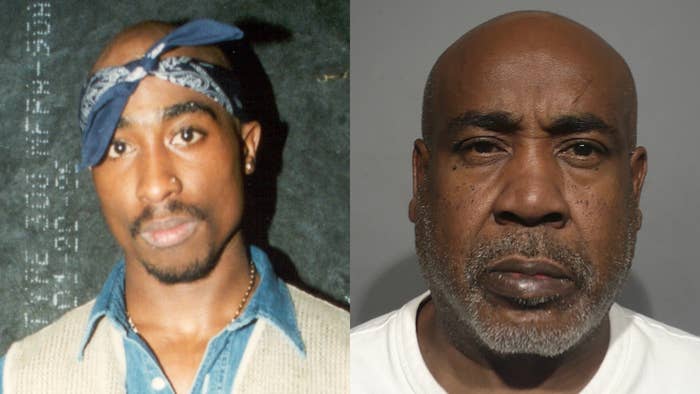 The Las Vegas Metropolitan Police Department explained why it took nearly three decades to make an official arrest in the 1996 murder of Tupac Shakur.
On Friday, the department held a press conference regarding the arrest of Duane "Keffe D" Davis, who was taken into custody earlier in the day.
"27 years, 27 years," Sheriff Kevin McMahill began the press conference. "For 27 years the family of Tupac Shakur has been waiting for justice. We are here today to announce the arrest of 60-year-old Duane Keith Davis aka Keffe D for the murder of Tupac Shakur."
According to Las Vegas police Lt. Jason Johansson, their "persistence" in the case helped them finally make an arrest.
"This case has been reviewed by our homicide team and homicide detectives for over two-and-a-half decades," Lt. Johansson said during the press conference, per XXL. "And ultimately, our persistence in this investigation has paid off."
Johansson said it took so long to arrest Davis due to not having enough evidence to bring forth criminal charges—however, all that changed in 2018 as more information came through regarding the shooting death of 2Pac.
Johansson also said Keffe D's "own admissions to his involvement in this homicide investigation that he provided to multiple media outlets" is what broke the case.
The Southside Compton Crip member has openly discussed Pac's murder over the past several years, leading many on social media to wonder why it's taken so long for police to catch on and charge him. Keffe has spoken about the incident in numerous interviews, on programs like VladTV and BET's Death Row Chronicles and he even revealed he was in the car that opened fire that fateful night.
Of note, Keffe's nephew Orlando Anderson got into an altercation with 2Pac on the night of the rapper's murder. While at the MGM Grand Las Vegas, Anderson was beaten by several men affiliated with Death Row, including 2Pac, just hours before the rapper was gunned down. Anderson was later detained by police in connection to the murder of 2Pac but was never charged. He later died in 1998 at the age of 23 after being shot.
"We've conducted countless interviews and corroborated numerous facts that were not only consistent with the crime scene the night of the incident but also corroborated and consistent with the sequence of events that night," Johansson added.
Davis was arrested Friday morning and has been indicted for murder with the use of a deadly weapon with the intent to promote, further, or assist a criminal street gang.
Earlier this, the home of Paula Clemons, who is Davis' wife, was raided by the LVPD.
In their search, police confiscated multiple computers, a cellphone, a hard drive, a Vibe magazine, multiple .40-caliber bullets, two "tubs containing photographs," and a copy of Keffe D's Compton Street Legend memoir.