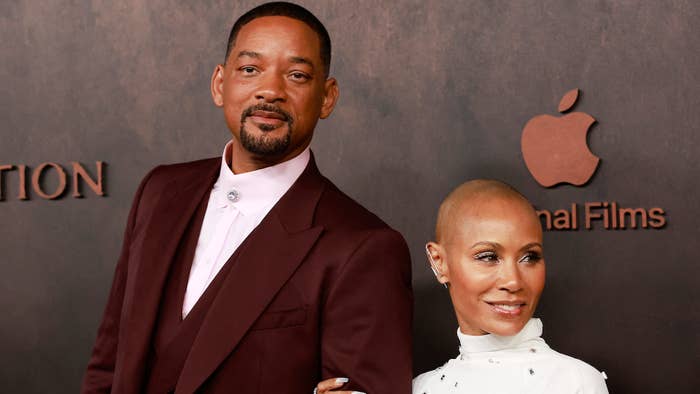 Jada Pinkett Smith is fondly remembering the late 2Pac Shakur.
Pinkett Smith shared a throwback video of herself dancing and lip-syncing with the rapper.
"Here is part of the original video of Pac and I doing a terrible job at lip syncing Parents Just Don't Understand😄," she wrote in an Instagram caption.
In a separate post, the actress and talk show host shared a passage from her upcoming memoir Worthy, writing, "Not in a million years would I have dreamed that the Fresh Prince and I would become, um, very acquainted. Not in a million years did I imagine three lives, their fates, would be so intertwined."
She continued, "And…I never would have imagined that this video would become a tangible memory, of the last time Pac and I, were simply kids together. Pac and I lip syncing 'Parents Just Don't Understand' by Jazzy Jeff and the Fresh Prince during our Junior year in high school. Who would have thought?"
Pinkett Smith has often talked about her longtime friendship with Pac. She met the rapper while they were attending high school at Baltimore School for the Arts. At the time, Jada says she was working as a drug dealer. The two remained close until Shakur's death in 1996. Will Smith admitted in a 2020 interview with The Breakfast Club that he had felt jealousy about their connection, even though the two allegedly never had a sexual relationship.
The Red Table Talk host promises to share more stories in her memoir Worthy. "On October 17th, I invite you into a journey that, understandably, many think they already know," she wrote on her Instagram. "The fact that I have, in the last four years contributed to the creation and perpetuation of falsehoods about myself, in which other untrue narratives were birthed, has surely aided in the misunderstandings that surround me. This fall, with deep humility and respect, I will take back my narrative."
"My memoir starts at the beginning, offering an unvarnished and revealing account from my challenging upbringing in Baltimore into a controversial life in Hollywood. It's a harrowing ride of reclaiming my self-worth while unraveling unspoken truths. My adventures of my youth, meaningful friendships, marriage, motherhood, self-betrayal and self reclamation are mere reflections of the adventures so many of us have taken in search of happiness," she added. "My hope is that through the exploration of my own tumultuous situations to the rediscovery of deep love, that we are all reminded that no matter where we may be on our journey, we are all…Worthy."
Worthy is set to hit bookstores on Oct. 17.