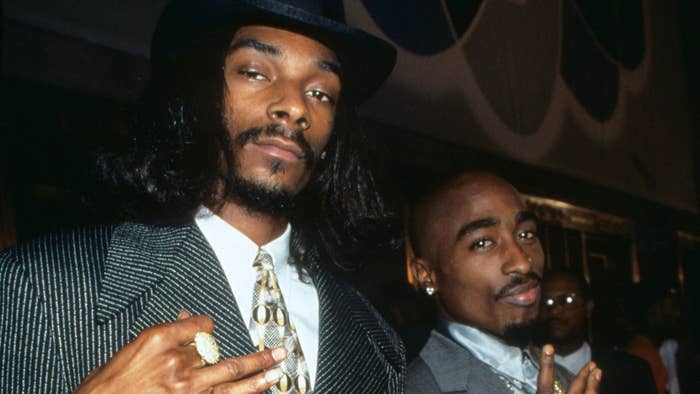 Snoop Dogg reportedly took a backseat in his career to let the late 2Pac have his shine, according to film director Allen Hughes.
During an interview with the Rap Radar Podcast, Hughes revealed that the Doggfather showed his humility by letting Pac become the star, despite being one of the hottest acts in the game.
"You got a guy that was the rockstar of that era," Hughes said. "And in the same era, he's on trial for murder… and thank God, [he] beats the case. And then you got all that little window where Snoop dimmed his light for 2Pac."
He continued, "I never understood that back then. I remember Snoop just dimming his light and letting 2Pac shine when Snoop was the guy, y'know?"
Allen Hughes has been tapped to direct Snoop Dogg's Universal Pictures biopic. In April, Hughes confirmed that the film was getting ready to begin production. The yet-to-be-titled biopic was announced in November 2022, and it will be the first film produced by Death Row Pictures.
"That's next. We're starting this summer. I'm so excited," Hughes told Variety at the time.
Snoop added in a statement, "I waited a long time to put this project together because I wanted to choose the right director, the perfect writer and the greatest movie company I could partner with that could understand the legacy that I'm trying to portray on screen, and the memory I'm trying to leave behind."
Earlier this year, Hughes released Dear Mama, the docuseries about 2Pac and his mother, Afeni Shakur. Dear Mama was critically acclaimed; however, some of Hughes's comments during a press run added some controversy.
During an interview with John Heilemann on The Recount, Hughes claimed Snoop was more of the "real street guy out of all these guys" while Pac portrayed that image instead of really living that lifestyle.
"2Pac, on the other hand, while he came up in the inner city or the urban, fucked-up ghetto, he's not a street kid," Hughes said. "He's an artist and an activist. He's a performance arts kid and he's delusional. He's just delusional … in a positive way. You have to be delusional to be a great artist."