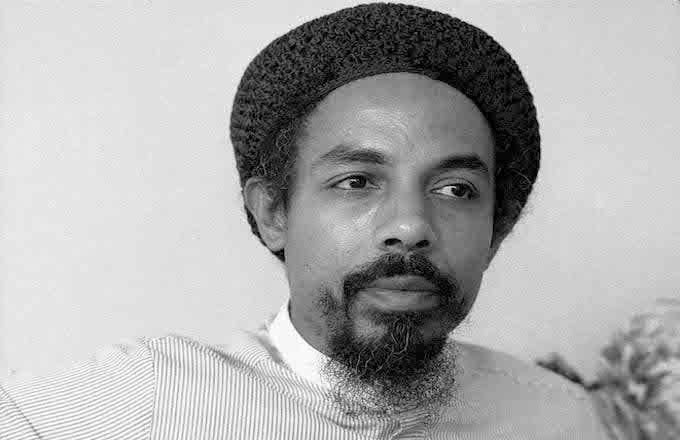 Jalal Mansur Nuriddin, the "Grandfather of Rap" and founding member of New York's spoken-word hip-hop group The Last Poets, passed away on Monday at the age of 74. 
According to Rolling Stone, while a cause of death is yet to be revealed, Nuriddin's transition to the other side was peaceful and still. "It is with extreme sadness and a heavy heart that the family of Jalal Nuriddin announce the passing of this great pioneer of the recording industry," the family said in a statement. "Jalal slipped quietly away this evening into the arms of Allah."
The Last Poets' debut album The Last Poets and their This Is Madness follow-up heralded the beginning of what you might recognize as lyrical rap today. With minimal percussion and production as the backdrop, Nuriddin and group members Abiodun Oyewole and Omar Ben Hassen took center stage to speak out politically, artistically, against oppression and the social standing of black and impoverished citizens of America. Essentially, they influenced the next generation of similarly curious rappers and paved the way for legends like Public Enemy's Chuck D, A Tribe Called Quest's Q-Tip, and Tupac Shakur.
"If you were 14 years old and trying to understand the streets, it was sort of like a verbal Bible," Chuck D said of Nuriddin's solo album, Hustlers Convention. Fab 5 Freddy called it "a cornerstone in the development of what is now global culture," while producer Ron Saint Germain claims it to be "one of the most stolen and sampled albums ever made."
Nuriddin himself, however, was trepidatious regarding hip-hop's trajectory as a social platform for people to egotistically express themselves however they pleased, without a focus on empowering the community at large. He felt the medium allowed any and every MC "to talk nonsense, bitch about their lives, boast about their women, their drugs, their money, their ego—as long as it isn't relevant to the liberation of the people's hearts and minds. I don't even think about rap."
In case you're wondering if The Last Poets actually made a substantial impact in the culture and popular consciousness of America at the time, their debut album, released in 1970, peaked at No. 29 on the Billboard album charts and sold hundreds of thousands of copies. After delivering their follow-up LP, Nuriddin focused on the aforementioned solo effort and threw out minimal production in favor of a more funk-influenced soundscape, while lyrically providing a slice of life from the point of view of two street-savvy youths.
"Hustlers Convention is about two characters, who are saving themselves by any means necessary," he explained. "It wasn't like they were educated at Harvard, you know? They was already facing discrimination by coming from the ghetto. They had to use their wits without actually breaking the law, because then they would go to jail, and the younger one did go to jail."
While that album didn't do as well as the prior group efforts, Nuriddin and his Last Poets crew stuck in people's minds—and got them a cameo in Tupac's 1993 film, Poetic Justice. 
Fortunately for the historical record and pantheon of significant figures in hip-hop history, Nuriddin was immortalized on film more substantially when director Mike Todd made the 2015 documentary Hustlers Convention. Sadly, the MC never garnered the same level of popularity and economic stability he had garnered in the 1970s. "Q-Tip was the only rapper who helped me out," he said. "He sent me a grand when I was stranded and it got me out of hot water."
While rappers and fans alike often glamorize the street hustler's life and mentality, Nuriddin was trying to explore that popular subject matter from a more cautionary and informative approach with his album. "It looks good on the surface: it's fast, it's quick, it's a road to riches and maybe some local fame," he said. "But at the end of the day you're gonna pay for the crime, you gotta do the time. You can hustle righteously and honestly, you just gotta practice."
According to his family's statement, "details regarding his jananza (funeral) will be forthcoming shortly." Rest in peace, Jalal Mansur Nuriddin.