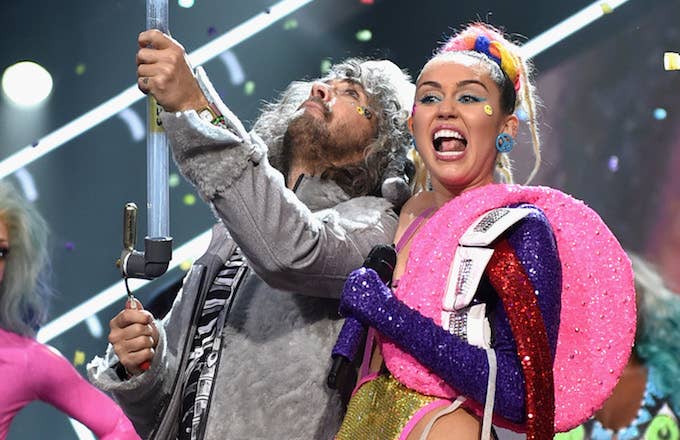 Flaming Lips frontman Wayne Coyne wants to press Miley Cyrus' record, Miley Cyrus And The Dead Petz, with the "Wrecking Ball" singer's urine and some glitter. 
Don't worry, you didn't just have a stroke, and if you're familiar with The Flaming Lips and Coyne himself, this shouldn't come as too much of a shock. According to NME, the man has, after all, pressed previous vinyl records using custom-brewed beer as well as human blood. So, what's a little urine? 
"You can't really up the ante too much from human blood, but maybe when the beer is your own beer—the beer was made especially for the Flaming Lips and has our influence in its taste and color," said Coyne. "That's not as insane as having a little bit of Erykah Badu, and Chris Martin's blood in your records. Probably not as insane as that, but still pretty great."
If you're a musician with a penchant for the mystical, getting queen Erykah Badu or melodically-gifted singer Chris Martin's plasma to fuse into your record is probably a pretty huge victory. As for Miley's album, of course, it seems like a liquid less…precious, is in order.
"The next record we were talking about releasing was the Miley Cyrus And The Dead Petz record," We'd get a good amount of Miley's pee and mix it with some glitter and put that in. I think that would up the ante. Don't you?"
Yes, yes we do.