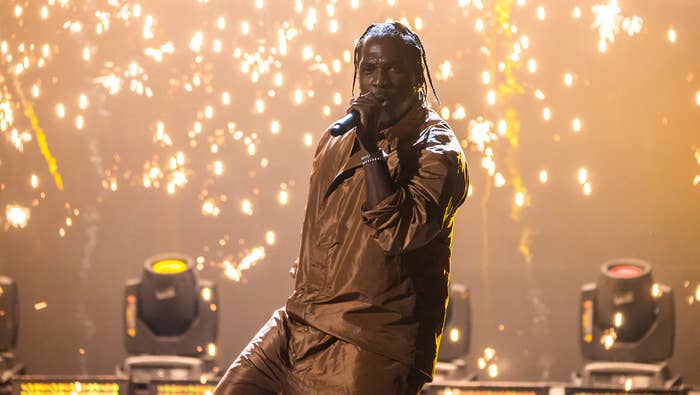 Pusha-T has shared a few more details on his follow-up to It's Almost Dry, which he again confirmed is in the works.
Rolling Stone conducted a lengthy interview with Pusha, where he admitted that he was en route to the studio to reunite with Pharrell Williams for his next project.
"I don't wanna give anything away," Pusha said. "But the giggles are even more evil than they were the last time."
Pusha also addressed a possible Clipse reunion, telling RS that he's doing everything in his power to convince No Malice to reunite. 
"I push the button every so often," he said. "I'm like, 'Yo, listen to what I just made! We can really do this'—and he brushes me off. … If I had it my way, it would be the Clipse. It's really up to my brother."
King Push has said numerous times he's already returned to the studio, recently telling Spotify that his forthcoming project is "extremely special" to him.
"I'm working on an extremely special project to me right now which I am not going to get into," Pusha said in September. "It's just all about music and staying competitive and just showing that there is a space for what it is that I do in hip-hop...and that what I do in hip-hop is the most credible space and takes the most talent...and is just…the realest."
Pusha also spoke of a new album in an interview with GQ back in May, when he previewed an unreleased track and told the outlet that work had already begun on a new project.
"This is a new era for me, for sure," Push said of the work-in-progress. "Don't you hear the flows, you hear the tones, you hear the character? Listen, remember what Big sounded like in '94? … Then he turned to the [smoother] Frank White persona by '96. By '97 it was full blown. And by the time the transformation is done [my craft] will be mastered and ready. You'll have a niche product."
Pusha most recently dropped off new music when he collaborated with Arby's to take aim at McDonald's, and returned again with another track called "Rib Roast" in September.
"I want to check all of these boxes," Push told Complex of the Arby's tracks. "This race that I'm running right now is honestly to try to see how far the sub genre of street hip hop can go. I love the fact that I'm in business with Arby's. We can show how far creativity stretches. We can show how far the talent level for street hip hop can go and how it can bleed into different arenas and genres and businesses and everything else."
He added that his new project has also found him reuniting with Kanye West and partnering with No I.D.
"Everyone I'm working with is feeling very competitive, trying not to be outdone," Pusha said. "That just makes my job harder because I'm trying to outdo producers who are also great artists who are also great rappers and composers. That makes my battle twice as hard. But it makes for the best rap music."