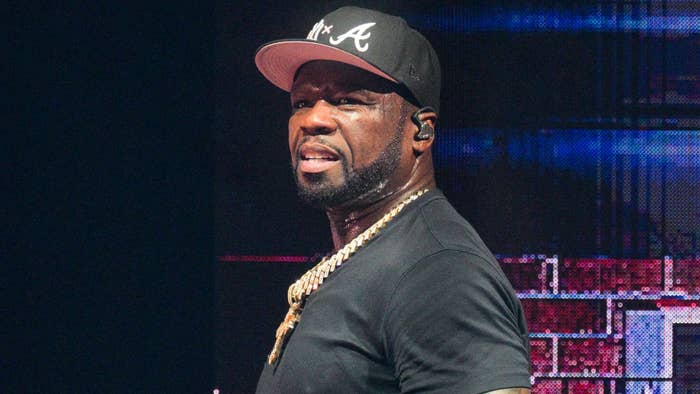 UPDATED 11/17, 1:55 p.m. ET: 50 Cent won't be facing any criminal charges in connection with an incident where he threw a microphone into a crowd at one of his concerts in August.
TMZ reports that the Los Angeles City Attorney's office said no charges will be filed against Fif, who allegedly left one of his fans with injuries as a result of throwing the microphone into the crowd.
The case will remain open, so there's a possibility criminal charges could be re-evaluated over the next year. The rapper's lawyer Scott Leemon reiterated that 50 Cent would "never intentionally strike anyone with a microphone."
See original story below.
50 Cent's Final Lap Tour has left one fan bloodied and bruised after the G-Unit leader tossed a mic into the audience and nailed them in the head.
The Power mogul took over Los Angeles' Crypto.com arena on Wednesday, and while he had plenty of tricks up his sleeve during the lengthy show, 50 grew agitated at one point as he was handed multiple mics that didn't work. In a video poated by The Neighborhood Talk, the technical difficulties clearly upset 50, who at two points threw the broken mics aggressively into the crowd.
One of the mics appeared to hit a woman in the head, and she was left with a bloody gash on her temple as a result.
50 has yet to respondedto the incident, though TMZ has learned that he's officially a suspect in a criminal felony battery report.
Per the outlet, the woman who was hit is Power 106 host Bryhana Monegain, who has since filed a police report. She told authorities that 50 looked at her before he threw the mic, which means he knew she was there. Monegain went to the hospital with a head laceration following the incident.
50 Cent also isn't the only rapper who hit an audience member with their microphones. Cardi B was performing at an outdoor daytime party in Las Vegas back in July, with footage from the event showing Bardi, in the midst of performing "Bodak Yellow," getting soaked with water from a fan in the crowd.
In response, Cardi threw her microphone at the offender before the drink-tosser was escorted off the premises.